I've been back stateside for a week, but I've still been doing Ireland reading, since I wound up with more books than could fit into a vacation.  Here's the Hibernian reading that got done this week:
It was after that argument between Athairne and Neidhe, King Conchubar made a change in the laws.  For it had been a law that no one that was not a poet could be a judge.  But the language of the poets was hard to understand, and the king was vexed when he could understand but a small part of their argument.  So he said that from that time out, any fitting man might be made judge, was he or was he not a poet.  And all the people agreed to that, and the new law turned out very well in the end.
I've been trying out Goodreads, by the by, and don't really understand what's fun about it.  If you'd like to, enlighten me in the comments.  And if you want to friend me there (or whatever one does), here's my profile.
Now, here's a quick takes link I had to hold in reserve while doing vacation Quick Takes last week.  (Though, in one way, it might have been on theme).  Modern Farmer has a review of a very sui generis King Lear.
King Lear with Sheep stars one man and eight sheep.

Understandably the play is not a straightforward replica of the original Shakespeare (even without the addition of the animals), and focuses on the efforts of a stubborn director to persuade his all-sheep cast to perform King Lear.

As you would expect, they remain silent.

The director interprets this as mutiny and comes to loathe his troupe; their unwillingness to perform the roles he expects of them precipitates his nervous breakdown, and his fall mirrors the fall of Lear himself. King Lear with Sheep is an experimental re-evaluation that overturns theatrical conventions through the startling and revolutionary device of costumed sheep.
A more conventional King Lear opens next week in Central Park, but, on my next trip to the city, I'd be most interested in visiting the new Morbid Anatomy Museum.  The New York Times review profiled people who worked on the museum and contributed research or exhibits, and included the following:
Karen Bachmann's cluttered living room in Greenpoint, Brooklyn, looks like that of any other family with young children — until you notice the skeleton of a human foot splayed on one wall.

"I used to wear it in my hair in art school," Ms. Bachmann explained on a recent morning. "I would pile my hair up on my head and bend the foot into a clip."

Ms. Bachmann, an independent jeweler who teaches at the Fashion Institute of Technology and the Pratt Institute, no longer wears the foot, but she still does unorthodox things with hair, or other people's, at least. She is an expert on hairwork, a once wildly popular 19th-century home art — the Paris Exposition of 1855 featured a life-size portrait of Queen Victoria made entirely of human hair — that had all but disappeared by the 1920s.

As a student at Pratt, Ms. Bachmann made necklaces from chicken hearts and sculptures featuring animal organs in plastic bags cinched with corsets. "One professor called my work grotesque," she recalled. "I was offended, but then decided to take it as a compliment. Besides, I'm pretty sure I'm the only student of hers who ever got a job at Tiffany."
If you are even the tiniest bit intrigued, I strongly recommend Drew Gilpin Faust's This Republic of Suffering, which has some excellent sections on the way the Civil War shaped America's cultural approach to death and mourning.
Christine McConnell's creepy cakes
.  Here's one I particularly liked: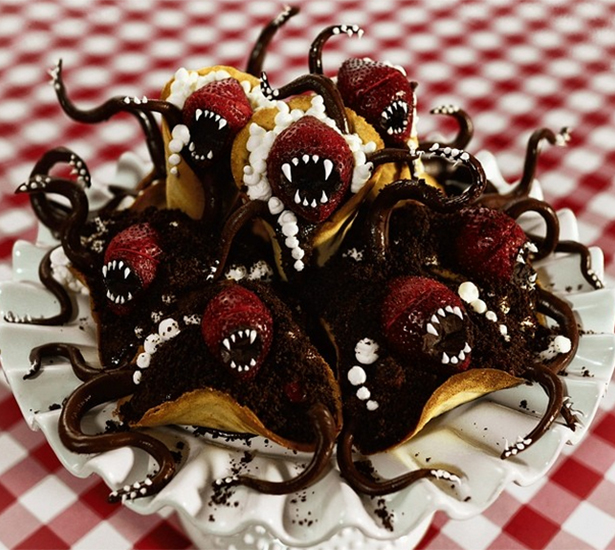 I could use some crowdsourced cake advice myself.  I'm having my birthday party (early) this weekend,  and since I'm staying in temporary housing til my new lease starts in August, baking is more of a hassle than usual.  Any advice for easy but delicious chocolate cakes?
Meanwhile, Ngozi of Check Please! has another artistic take on a horror story.  Ok, weddings may not always be terrifying, but they certainly are for Amy in Stephen Sondheim's Company, and Ngozi has done a lovely job storyboarding Amy's frenetic "Not Getting Married Today."  It's not embeddable, but it's a whole lot of fun, so click through.
There's another beautiful animation to enjoy via Mike Bostock, who has put together a fantastic page explaining how a lot of common sampling algorithms work (and using Van Gogh's Starry Night to illustrate them).  The page is gorgeous and easy to learn from.
My last link is a bit less exciting than those that preceded it, because it concerns a baseball game about nothing.  Well, technically, that might be how I describe all baseball games, but the Brooklyn Cyclones dedicated a game to all things Seinfeld with hilarious results.
The foul poles were renamed the Festivus poles and the information kiosk was repurposed for an "airing of grievances." There was a low-talker announcer and a close-talker mascot. The Cyclones awarded an actual latex salesman tickets and let a man actually named George Costanza, who drove down from Rhode Island, do radio commentary.

Character-inspired games included an Elaine Benes dancing contest and a competition inspired by George's whale-rescuing heroics. Winners received Bosco chocolate syrup in honor of George's close-kept password, and Beefareeno canned meat, which Cosmo Kramer regrettably fed to a carriage horse.

The Cyclones' director of communications, Billy Harner, came up with the promotion and fleshed it out with five other staffers. Even some ideas that seemed laughable at first made the cut. "That's kind of the beauty of minor league baseball," said Mr. Harner, 31, a native of Bay Ridge, Brooklyn. "What we do as an industry is we major in the absurdity."
For more Quick Takes, visit Conversion Diary!