I'm really pleased to announce that this coming May, I'll be publishing my first book with Ave Maria Press!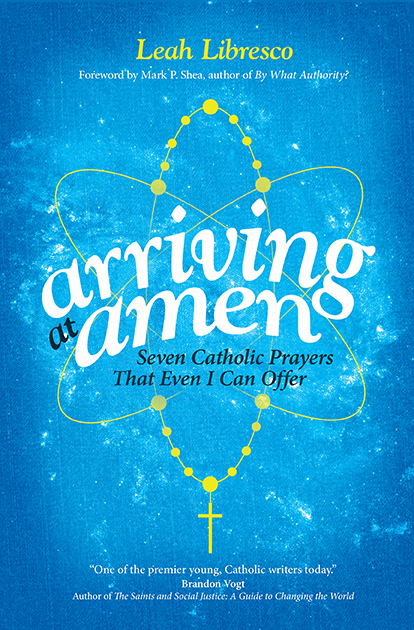 It's now available to pre-order on Amazon (in print, kindle will come later) and I've built a snazzy website to answer all your questions about the book.
(Including questions you may not realize you had like "Which Shakespeare plays, exactly, wind up quoted in the text of your book?  And which Pratchett?")
But, back to the main substance of the book… here's how I'd describe it:
Being a convert and learning to pray is a little bit like studying a foreign language.

The trouble is that it's a lot like studying a foreign language in the new language.

It's hard to even pose a question, when you're relying on what feels like a pidgin-level of prayer fluency.  So, I wound up cobbling together a creole as best I could, building up my understanding of spiritual life using the tools and analogies that I already had.

I thought about the way that subroutines are nested safely in bigger tasks in computer programming as I tried to figure out how to wrap the Liturgy of the Hours around my hectic, day-to-day life.  I relied on my understanding of cognitive biases like the sunk cost fallacy when I tried to figure out what made it hard to go to Confession.  And, when all else failed, I tended to crib little prayers from the exasperated exclamations of Shakespeare's plays.

In Arriving at Amen, I discuss the seven Catholic spiritual practices that have shaped my prayer life (Petitionary prayer, Confession, the Examen, the Rosary, Divine Office, Lectio divina, and Mass) and the math, musicals, and medical oddities that helped me find my way into these practices.

If you're not Catholic or not practicing, I hope the analogies and connections that helped me might make Catholicism make a bit more aesthetic and logical sense.  (Or at least, make it differently confusing).

And, if you are Catholic, I hope that the beauty that led me "further up and further in" to the church will help to set alight your own prayers and your delight in the way that everything beautiful, good, and true is a signpost on the way to God.
About once a month, until the book comes out, I'll be sending out some updates and previews.
So, If you'd like to get email updates about the book, sign up here.
And, if you're wondering what kind of people like the book, so far it's been a hit with:
Catholic Converts:
"A brilliant, quirky guide who helps you see everything anew"
– Jennifer Fulwiler, Something Other Than God
Christian Magazine Editors:
"Direct, uncluttered, and full of spiritual insight… a singularly helpful book"
– R. R. Reno, editor of First Things
And…. people who write fantasy novels by translating the financial crisis into religious frameworks:
"A wonderful and lucid preaching in geek tongues"
– Max Gladstone, Three Parts Dead
And hopefully, all of you!  I'm looking forward to telling you a lot more about the book in the days to come.  Let me know what questions you have in the comments!