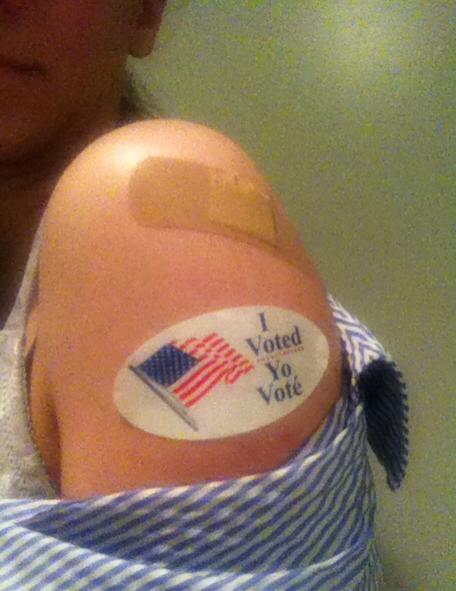 I went and got my own flu shot yesterday, and then came home to do the final tally of how many flu shots you, and your children, and your chief whips all got as part of our donations-for-vaccinations drive.
In the final analysis, one hundred twenty three of you went out to get your shot or nasal mist, to foil the spread of the flu virus!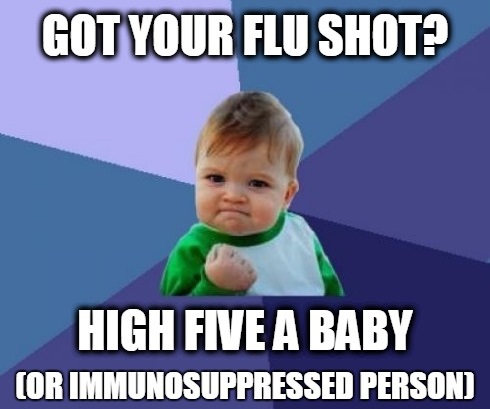 Building up herd immunity (and avoiding getting sick yourself) is really its own reward, but since you all logged your shots as part of a donation drive, you've raised Six Hundred Fifteen Dollars for the Schistosomiasis Control Initiative< (one of GiveWell's top-rated medical charities).

I capped my own pledge at $300, but, since you all busted through that limit, several commenters stepped up to fill in the gap.  Our generous commenters were:
(I let each of them recommend a book, since they were stepping up to make donations).  I've emailed them all, so I anticipate they'll be making good on their pledges this week.
I want to thank you all for doing good, near and far, and for acting to help get other people in your lives immunized.
I do recommend considering GiveWell's top-ranked charities (ranking soon to be refreshed in their year-end assessment) when you're looking for ways to make sure your money does a lot of good.  And I also recommend looking for chances to set up virtuous cycles where you can use need and charity that occurs in your near, day to day life (like getting a flu shot or doing volunteer work) as a trigger to also give to far causes, that may not ping you very hard in the ordinary course of a day.
Thank you all for your good works!