It turns out that Goodreads has a nifty feature that plots the publication date of books you read against when you read them. (I think it gets confused by second editions and reissues, though). It was fun to see my year's (well, half-year's — I started using Goodreads this summer) reading plotted out in this way.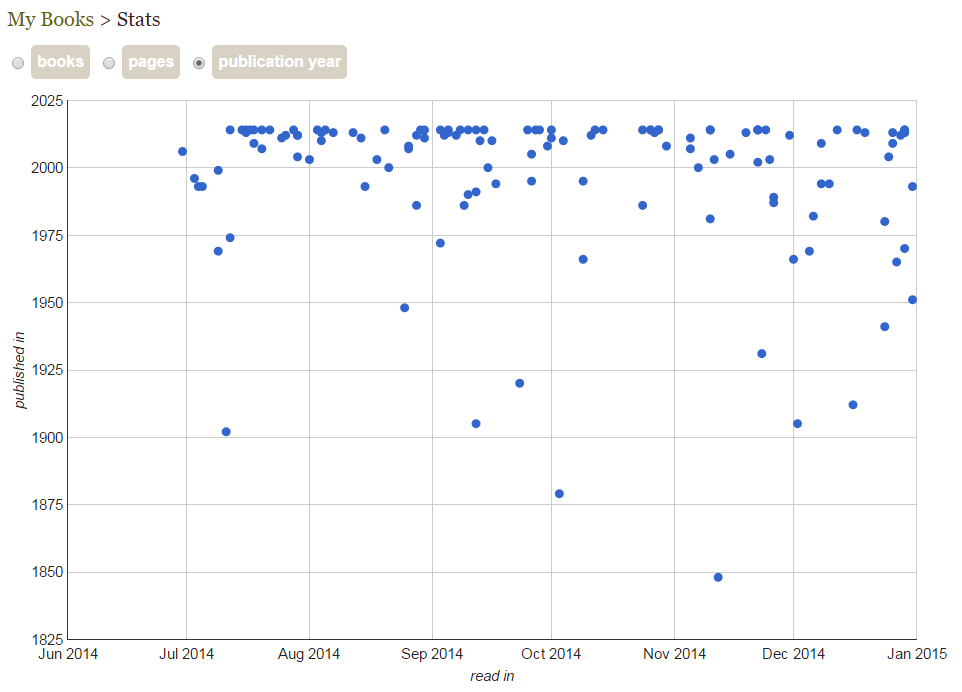 Turns out the top ten oldest things I read were:
Meanwhile, I don't have a reading resolution as such, but here are the books I have on deck (meaning literally in my possession–Kelly Link's Get In Trouble doesn't count, nor does Wesley Hill's Spiritual Friendship even though I've preordered both). So, this list is composed of library books that I've got out at the moment, Christmas presents, and the books that rattle around while I keep intending to read them (though I finally knocked Josef Pieper's The Four Cardinal Virtues off that list this year!). I've listed them alphabetically by author, and included some hat tips, where appropriate,
Oh, and speaking of Goodreads and intended reading, if you use the site, and are excited about my book, Arriving at Amen coming out in the spring, could I prevail upon all y'all to add my book to your "want-to-read" list on Goodreads? It's one of the proxy variables that helps publishers and booksellers decide how much of a push to put behind an upcoming book.