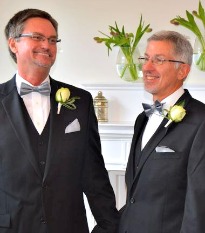 Bobby Prince and Joe Openshaw (above), of Birmingham, Alabama, are getting married on Saturday, October 26. They are members of the United Methodist Church, the second largest Protestant denomination in the United States after the Southern Baptist Convention. Naturally enough, Bobby and Joe wanted to get married before their friends, family, and church family in their church home, Discovery United Methodist Church of Hoover, AL.
That special blessing will be denied the couple, though. Why? Because constituting the law and doctrine of the United Methodist Church is The Book of Discipline. Despite the objections of a great many Methodists (e.g., A Methodist to their Madness), The Book of Discipline, revised and sanctioned in 2012, reads:
Regarding the ministry of the ordained

¶ 304.3
While persons set apart by the Church for ordained ministry are subject to all the frailties of the human condition and the pressures of society, they are required to maintain the highest standards of holy living in the world. The practice of homosexuality is incompatible with Christian teaching. Therefore self-avowed practicing homosexuals1 are not to be certified as candidates, ordained as ministers, or appointed to serve in The United Methodist Church.2

1. "Self-avowed practicing homosexual" is understood to mean that a person openly acknowledges to a bishop, district superintendent, district committee of ordained ministry, board of ordained ministry, or clergy session that the person is a practicing homosexual. See Judicial Council Decisions 702, 708, 722, 725, 764, 844, 984, 1020
2. See Judicial Council Decisions 984, 985, 1027, 1028

¶ 341.6
Ceremonies that celebrate homosexual unions shall not be conducted by our ministers and shall not be conducted in our churches.
(Italics mine.)
Despite The Book of Discipline, retired Methodist Bishop Melvin G. Talbert decided to travel from his home in Tennessee to Alabama to marry Joe and Bobby. Hosting the ceremony will be Covenant Community Church in Center Point, which is affiliated with the United Church of Christ, a mainline Protestant denomination that blesses same-sex unions.
Debra Wallace-Padgett, Bishop of the Methodist North Alabama Conference (home to some 137,000 Methodists), took considerable exception to Bishop Talbert's decision. In a press release dated September 30, 2013, Wallace-Padgett wrote:
A retired United Methodist bishop notified me that he plans to travel to North Alabama, the area for which I am responsible, with the intention of breaking church law. …. I urged the retired bishop to reconsider as his officiating at this ceremony would be in violation of United Methodist Church law. … Every person is welcome in our churches. The [Book of Discipline] of our denomination also states that we consider the practice of homosexuality as incompatible with Christian teaching. Our ministers are not permitted to conduct ceremonies that celebrate homosexual unions or perform same sex wedding ceremonies.
Bishop Wallace-Padgett's (weirdly name-avoiding) statement was supported by the Council of Bishops of the United Methodist Church, which, in a statement issued Wednesday, also strongly urged Bishop Talbert not to marry Bobby and Joe:
The bishops of the church are bound together in a covenant and all ordained elders are committed to uphold the Book of Discipline. Conducting ceremonies which celebrate homosexual unions; or performing same-sex wedding ceremonies are chargeable offenses in the United Methodist Church. (¶2702.1.b)
(For an eloquent dissension from the Council's opinion, see this letter from one of their members: Bishop Mary Ann Swenson writes dissent on Council Birmingham statement, in which Bishop Swenson writes: "It is written in the Scriptures that our risen savior Christ Jesus broke the Sabbath commandments and healed those who needed healing. Jesus broke these commandments not for the sake of disregarding the law but to follow the spirit of the law found in the greatest commandments to love God and to love neighbor." And hey! I recognize that reasoning! At the October 10th Washington D.C. press conference for the Not All Like That (NALT) Christians Project, I said, "Christ proved he wants us to always choose compassion over legalism when he healed the man at the pool at Bethesda. He did that in violation of the fourth commandment not to work on the Sabbath. He broke the law for love." Which I think proves beyond a doubt that Bishop Swenson and I did a trans-Internet mind meld! Yayeth!)
The censure of the Methodists' Council of Bishops failed to dissuade or cower Bishop Talbert, who yesterday told AllAlabama.com:
We as the church have the privilege of inviting people to come to God's table, but we do not say which ones can and which ones can't. They are all created in the image of God. They all have a place at God's table. They should not be excluded. … The time has come for us to pull the cover off and be honest with ourselves. At every level of this church there are people serving in partnered relationships, but we don't talk about it. As long as we don't talk about it, it's okay. I find that to be hypocritical. … The church has said a lot of things down through the ages; the church has been on the wrong side of issues, such as the role and place of black people. The Methodist church split over the issue of slavery. The church was on the wrong side when it said it would not ordain women. It's just painful that generation after generation, we have to find somebody to exclude to feel that we are important and significant.
The wedding of Bobby Prince and Joe Openshaw will commence tomorrow as planned. It will be the first public same-sex wedding ever presided over by a United Methodist bishop.
We wish all of God's blessings upon Bobby, Joe, their friends and family, the mighty Bishop Talbert, Covenant Community Church, and Bishop Mary Ann Swenson.