"When it's time to stop living, I will certainly make Death my number one choice!"
-Terry Pratchett, The Last Continent, Discworld 22, 1999, London, Corgi, p.394
Last week the world's media announced the death of British fantasy novelist Terry Pratchett (April 28 1948 – March 12 2015). After 70 books, 70 million sales in 37 languages, and 44 years as a professional author, one of the wittiest, cleverest, and insightful writers passed into the Great Beyond.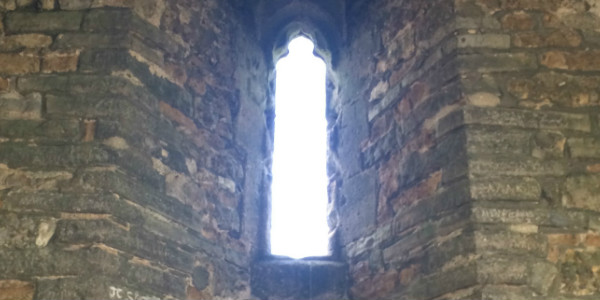 Terry wrote about a lot about Death, a being who took his job seriously and often seemed to take his victims by surprise.
WHAT DO YOU THINK, said Death. AM I REALLY HERE, BOY?
'Yes,' said Mort slowly. 'I … I've watched people.
They look at you but they don't see you, I think. You do something to their minds.'
Death shook his head.
THEY DO IT ALL THEMSELVES, he said. THERE'S NO MAGIC. PEOPLE CAN'T SEE ME, THEY SIMPLY WON'T ALLOW THEMSELVES TO DO IT. UNTIL IT'S TIME, OF COURSE. WIZARDS CAN SEE ME, AND CATS. BUT YOUR AVERAGE HUMAN … NO, NEVER. He blew a smoke ring at the sky, and added, STRANGE BUT TRUE.
-Terry Pratchett, Mort, Discworld 4, 1987, London, Corgi, p.36.
Terry was someone who was prepared to stare death squarely in the face.
Man in Search of a Sword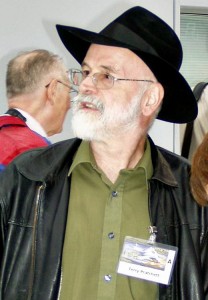 I first met Terry Pratchett a quarter of a century ago when we planned our first indoor Pagan Federation conference. Terry quickly agreed to support us. He turned up in his trademark black Fedora hat and his talk left us with tears of laughter rolling down our faces. He judged with humor our stunning array of competitors for the 'Best Magrat' competition. In case you don't know – Magrat Garlick, Granny Weatherwax and Nanny Ogg are the witches of the Lancre coven. Unlike the others, Magrat is a New Age witch, an enthusiastic user of crystals and, for Granny Weatherwax an even more outrageous abomination – colored candles!
Terry was impressed by how the talented competitors brought his characters to life. Evenly-handed, and ahead of his time, he awarded the prizes to two women and a man. He also examined a few of the swords on sale, but couldn't find anything that was quite what he wanted. Years later, when he was knighted by The Queen, he smelted the metal for his own sword blade from iron deposits dug up from a field near his home 14 miles to the south of Stonehenge. He mixed the metal with just a little meteorite thunderbolt iron. It was he said, '… highly magical, you've got to chuck that stuff in whether you believe in it or not.'
Pagan-Friendly Author
In later years, on the fantasy author circuit I got to know Terry better and found that his humor warmed up in the best possible way those long cold hours hanging around back stage between giving talks. For someone who considered himself firstly atheist and then agnostic, Terry knew a lot about Paganism. He admired the work of Ronald Hutton and his books are filled with those insights that make most sense if you've spent years in Pagan groups.
"It was a place where witches met.
Tonight a fire gleamed on the very crest of the hill. Dark figures moved in the flickering light.
The moon coasted across a lacework of clouds.
Finally a tall, pointy-hatted figure said, `You mean everyone brought potato salad?'"
-Terry Pratchett, Witches Abroad, Discworld 12, 1992, London, Corgi, p.17.
Death Seemed to Preoccupy Terry
Perhaps Terry sensed that death would claim him long before, he, his family, friends and fans would wish. Death featured as a major character in his books and Terry often referred to Him. The publicity blub for his novel Interesting Times, Discworld 17, 1995, read:
"Terry Pratchett was born in 1948 and is still not dead. He started work as a journalist one day in 1965 and saw his first corpse three hours later, work experience meaning something in those days."
In 2007, Terry was diagnosed as suffering from posterior cortical atrophy (PCA), a rare form of dementia. We usually think of dementia as being about memory, but in PCA there is a progressive degeneration of the posterior cortex of the brain responsible for processing visual information. It manifests in increasing difficulty with reading, spelling, math, driving, and using and identifying common objects. For a writer like Terry, this was a tragic disease, but he managed with the aid of technology and assistants to keep producing books until very near the end of his life.
"Death isn't cruel – merely terribly, terribly good at his job."
-Terry Pratchett, Sourcery, Discworld 5, 1989, London, Corgi, p.8.
After his diagnosis Terry also threw himself into a new occupation – campaigning. He became a patron of Alzheimer's Research UK and gave a $1 million donation to the charity. He also began a campaign for the legalization in the UK of assisted suicide. In 2010, Terry was invited to be the first novelist to give the important and prestigious Dimbleby Lecture. The disease was already making inroads, so Terry invited his friend actor Tony Robinson to assist him in delivering the speech, Shaking Hands with Death. Terry made an eloquent and moving plea for what he called the 'common-sense solution' – that those with incurable illnesses should be able to choose how and when to die.
This was an issue that had already touched my life twice. The first time was when my mother was dying of cancer and a wise and sympathetic doctor helped us to make a 'common-sense' decision of allowing a condition to go untreated and hasten the end. The second was when I was seriously ill. Hovering between life and death, I was happy to go forward or backward over the border, but the no man's land in the middle was no place to be.
"DON'T THINK OF IT AS DYING, said Death, JUST THINK OF IT AS LEAVING EARLY TO AVOID THE RUSH."
-Neil Gaiman and Terry Pratchett, Good Omens, 1991, Corgi, London, p.198.
My experiences formed my view of assisted dying, but Terry's lecture brought the issue to the forefront of my mind once more. That summer I held a workshop with an international group of Wiccans and we spent moving hours discussing how this issue had touched our lives and what we felt about it. We all believed in the sanctity of life as a precious and beautiful gift of the Gods, but it was noticeable that most of us were firmly of the view that individuals were autonomous, that we owned our own bodies, and that we should have the right to end our lives if we became terminally ill. Later that year, I was fortunate enough to participate in Terry's lobbying event at the Conservative Party Conference for the legalization of assisted suicide. The Conservative Party has never been sympathetic to non-Christian points of view, but Terry's eloquence, sincerely, and authenticity, won over many.
Walking Arm in Arm
With characteristic style, Terry arranged for the ending of his life to be tweeted.
AT LAST, SIR TERRY, WE MUST WALK TOGETHER.

— Terry Pratchett (@terryandrob) March 12, 2015
Terry took Death's arm and followed him through the doors and on to the black desert under the endless night.

— Terry Pratchett (@terryandrob) March 12, 2015
Terry left us all too soon. He will be missed and mourned by millions, but the work that he has done for literature and for charity lives on.
Terry Pratchett's 2010 Lecture can be viewed at this link.