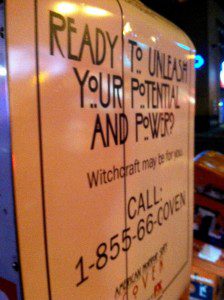 Zombies, Witch Hunters, Red-Eyed Papa Legba, and Blood Bathing Marie Laveau, honestly even if I live to see the "seven wonders,"… I may never see anything as strange as this again. American Horror Story Coven has brought New Orleans Voodoo and Witchcraft into our livingrooms these past several months and we may never be the same again.
My post Voodoo Truth About Papa Legba got some viral Voodoo buzz, and I'd like to think that's because people really do want and need to know more about this ancient albeit mysterious tradition called Voodoo.
While I consider most of what was said pretty tame, we did get accused of inciting both #Paganrage and #Christian rage. There were questions from stupid people, sad people, and people genuinely wanting to learn more, some of those are worth repeating here.
Does New Orleans Voodoo have Zombies or Voodoo Dolls?
The quick answer about zombies is no way. There is historical evidence of an ethnobotanical formula that would slow breathing, and temporarily paralyze. This was used as a social control among a people who didn't necessarily have other judicial means at their disposal, you can find out more in my videos. Voodoo Dolls are a recent import too.
Fire Fire Fireside Chats Voodoo Dolls
Do your Gods do Drugs?
In New Orleans Voodoo there is no Loa/Lwa that I know of that would ask for that type of sacrifice. Drugs are prohibited as a rule, probably because of the serious problems they have caused in disenfranchised minority communities. Now if someone really loved drugs, maybe promoted drugs, had drugs as part of their existence (I've seen this with soft drugs, think Snoop Dogg) people will leave that as an offering after they have died along with that person's favorite foods, favorite drinks, and the like. Papa Legba using cocaine in the American Horror Story Coven storyline was most likely a conflation by the writers of the show, probably with some of the indigenous South American tribes that have as part of their history a ceremonial use of coca leaves, or maybe the writers just made it up completely.
Didn't people get offended by the "Piss Christ"? What if They portrayed the Virgin Mary as a pole dancer? Don't you know religion isn't real?
I'm not sure if these questions have answers, some just left me scratching my head and laughing. I am however proud and intrigued by the discussion this has sparked.
So if you are addicted and you just can't get enuf, here's some more for you:
American Horror Story Video Chats with Voodoo Priestess Lilith Dorsey and Media Witch Peg Aloi. See us wear costumes and ask the difficult questions:
Is it incest if you're using someone else's body parts?
Where did all this chicken come from?
Why is Queenie wearing a tablecloth?
Should I make a Myrtle costume for Mardi Gras?
Who was the real Voodoo Queen Marie Laveau?
Since the start of the show I have been referring people to my books Voodoo and Afro-Caribbean Paganism and African-American Ritual Cooking and the amazing work by historian Carolyn Morrow Long. Ms. Long has specifically begun addressing the issues this show raises lately in her blog posts American Horror Story Coven, Fact Vs. Fiction. My fellow Patheos bloggers have been dishing the Pagan dirt for months and all are welcome here. There will be one more installment of our video chats, look for it on youtube and keep tuning into the blogs here, subscribe to our RSS feed and find out "Where do we go from here?"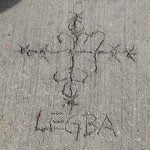 Bye bye Lega-boo-boo,
We may even miss you.