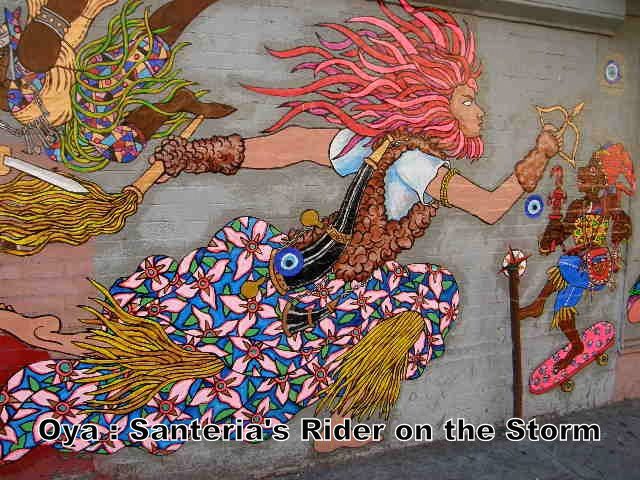 Oya is the Storm
The Wind, the Tornado, the Hurricane… all of these are the domain of the great and powerful Santeria goddess Oya. She is change. Oya can very often be change in the form of severe weather. Civil rights activist Dick Gregory used to speak of the HER- icane, a powerful force of wind that started in Africa, where the roots of mass slavery began and carried it's ire over the ocean, destroying the "new world" and stopping at Canada which never has a system of enslaved peoples.
Oya is a Warrior
Original Botanica is one of the oldest botanicas in New York City. They say that  "Oya would put on a pair of pants and grow a beard just to fight like a man at war. Oya has a younger sister named Ayao who is the Orisha that resides in the clouds in the sky. It is Ayao that gives her sister Oya the ability to take the spirits of the dead to go fight alongside her which makes up her powerful army." She is the quintessence of feminine courage and strength.
Oya is the Queen of the Cemetery
Her feast day is February 2nd. This mimics the Haitian Maman Brigitte. Many believe Oya is the gatekeeper and Queen of the dead. She carries her whip and machete, ready to battle all that stand in her way. She is also known as Yansa, which is translated to mean mother of nine. These are said to be represented by the colors of her rainbow skirt. A beautiful video depicting Oya Yansa's sacred dance can be found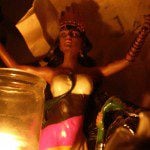 She is known as the red woman from the west, the White Buffalo woman, a shape shifter, and a chameleon. There is more to be said about this Santeria (Lucumi) goddess than could be written in 9 or 900 blogs posts. Unlike several of the other Santeria Orisha, certain spiritual houses believe she does not have paths. For she is instead the divine essence of change, undefinable and strong.
In New Orleans she is given a special place. For there the winds are known to blow, and the ancestors are strong in the crescent city of the dead. New Orleans based priestess Sallie Ann Glassman writes the following litany for Oya in her book Vodou Visions " Oya, who dances on tombs with her torn skirts. Overturn our minds with genius or madness."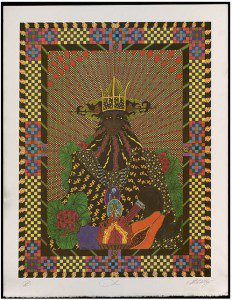 Herbs sacred to Oya include: Allspice, Anise, Carnation, Coffee, Camphor, Clove, Dragon's Blood, Dittany of Crete ( a personal favorite for the ancestors,) Dill, Eucalyptus, Espanta Muerto, Flamboyan Pods (great for shaking,) Hibiscus, Hyssop, Lemon Balm, Lime, Myrrh, Mugwort, Orris, Rosemary, Rue and Sandalwood.
These can be blended together is combinations of nine and used as a candle dressing for Oya and the ancestors. Please do not leave burning candles unattended. Appropriate colors would be purple and black.
Many blessings to you this feast day!
Oya Wini Wini!
The Spirit of the Wind is Wondrous!