Wealth is a difficult subject. Everyone wants it, people will die, or even kill for it. Taylor Ellwood has tackled this topic in his latest book Manifesting Wealth: Magic for Prosperity, Love and Health.
The book examines wealth as a process, where gaining, maintaining, and sustaining are emphasized. How in the world does one do that you might ask, and Ellwood tackles these problems, actions steps and solutions from many different angles. He begins by asking the reader to fully examine their own relationship to money and wealth. He describes those folks ( I know a lot of them) who just don't want to think about it. The problem with that is if you don't spend time and energy working towards your goals then you will accomplish little, if anything. I have a favorite quote that hear too often in my work as a psychic counselor and pagan clergy, it is simply "I've done nothing, and nothing happened." This book encourages people to be proactive, taking action to work towards your goals everyday, in whatever way you are capable.
Manifesting Wealth brings up a whole host of interesting solutions for dealing with prosperity in all areas of your life. Like any decent author Ellwood gives examples from his own life. He talks about the limiting beliefs about money he was raised with and how he struggles to overcome it. Ellwood advises trying "Taoist water breathing technique [as]… an excellent meditation that can help you discover and unlock areas of tension in your body that are related to limited beliefs and negative emotions."
Then Comes the Magic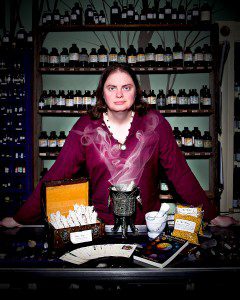 This book is full of a whole host of spiritual tips and techniques for helping you manifest wealth yourself. He recommends using a vision board, something he is legendary for in the pagan community. I tell the story of his love vision board success on a regular basis, to remind people that this technique works. Other traditional magickal techniques such as altars, symbols, and talismans are also discussed. While I appreciate these sections, I feel they were a bit basic for advanced practitioners and would have liked to see more in depth techniques. I also have a slight issue with his recommendation to evoke people the same way you would invoke a power animal or a totemic spirit. As a practitioner I feel that this can cause problems especially when dealing with people who are still alive. In that instance, I would recommend connecting with them in the physical world the same way as if you were trying to do magic to connect with a living person. By that I mean, if you are inspired by a successful person, I would recommend both connecting to them by reading their biography, posting inspirational quotes from them, or getting a copy of their autograph. One of my favorite magickal power items is an autograph from Jodie Foster that I received from her on a flight back from filming my Voodoo Documentary Bodies of Water in New Orleans. I put it near my money so the success and energy from that encounter will continue to help me prosper today. There are a lot of really helpful ideas here, though, that I encourage you to implement. I love Ellwood's concept of " appearance as a glamour that is comprised of your attitude and emotions, your body language, the clothes you wear, and the overall image you want to project to the world."
Practical Advice
Manifesting Wealth is full of really helpful practical advice about dealing with money. It talks about changing your "survive thinking" into "thrive thinking," a must for anyone trying to transform old unhealthy patterns of existence. He recommends tracking your time, a technique used by Underearners Anonymous. Ellwood intelligently recognizes people's natural tendency is to drift into negativity and guilt surrounding money, instead he asks the reader to focus their energy on assessing, tracking, and improving their relationship with wealth. Manifesting Wealth includes many useful ideas and suggestions, I would recommend it to anyone who needs to improve their life in this area. Honestly that's probably most of us.