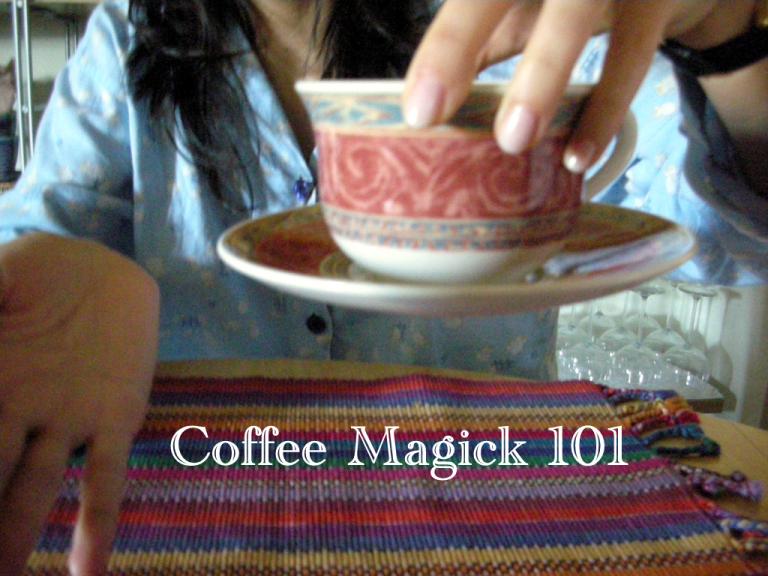 If we follow our minds down the path of Coffee through time we find that the history is rich. For those of us who can't live without it – coffee is everything ! The following is a quick overview of coffee magick , drink it in!
Voodoo and Coffee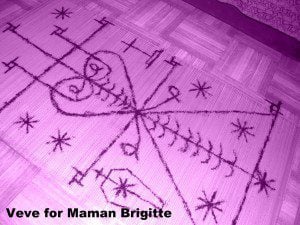 New Orleans Voodoo pairs coffee with everything from blessings to bourbon. The city is known for it's preference for coffee with chicory. Natives of the crescent city often add eggshells to cut the bitterness of the blend and give it a flavor all it's own. This however is much more than just a beverage, coffee is used as a medium for drawing ritual Veves. These are ground drawings laid out in elaborate patterns to both call and honor the Loa, or deities. Most often they are made with white flour or cornmeal, but when laying out a divine space for Maman Brigitte, the ancestors, or Papa Legba, coffee can be the sacred sprinkle of choice. Veves are laid out using both hands to represent the journey into both the visible and invisible world, Veves can be some of the most beautiful and powerful creations to behold. For more information check out Veves Sacred Cell numbers for the Gods . Coffee is also used as an offering, be sure to see my New Orleans Ritual Voodoo Coffee Recipe.
In Haiti's Vodou religion coffee is also used an an offering for the ancestors. Known as Les Baron and Les Gede, these powerful ancestor energies live on through the offerings they take. Coffee is only one of many offerings they are given including, liquor, food, flowers, money and just about everything a person living, or dead could want.
Santeria and Coffee
Santeria, also known as La Regla Lucumi has a deity called Eleggua. Eleggua likes it dark and strong. Hundreds of thousands of worshipers prepare a coffee offering for their Eleggua/Exu every Monday. It usually goes along with his cigar and literally starts the week off "rite." Coffee, like the Orisha Eleggua himself, is a portal, gateway to possibility if you know how to utilize it properly. Many systems of magick have discovered this fact about coffee.
Crowley Coffee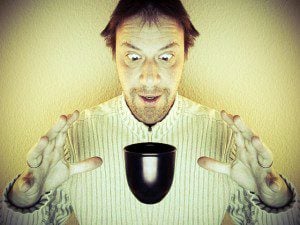 It is almost impossible to talk about Magick without talking about Aleister Crowley. His own mother referred to him as "the beast," and he loved it. Apparently the beast loved coffee too and he wrote the following invocation (which can be found on The Hermetic Library Blog 🙂
O coffee! By the mighty Name of Power do I invoke thee, consecrating thee to the Service of the Magic of Light. Let the pulsations of my heart be strong and regular and slow! Let my brain be wakeful and active in its supreme task of self-control! That my desired end may be effected through Thy strength, Adonai, unto Whom be the Glory for ever! Amen without lie, and Amen, and Amen of Amen.
Coffee Divination
"If you want to improve your understanding, drink coffee. " – Rev. Sydney Smith 1771-1845
Tea leaf reading has stolen the historic spotlight here, and most people are unaware of Coffee divination as a magickal system. Reading coffee grounds, tea leaves and the like is officially called Tasseography. In the book Cafe Nation by Sandra Mizumoto Posey writes " Coffee divination is once again enjoying widespread popularity because of the beverage's long-recognized ability to energize….Sufi mystics knew centuries ago that coffee had the ability to aid in meditation and prayer."
Turkish culture genuinely loves it's coffee too, and for them the ritual is complex. TurkishCulture.org explains the basics of coffee divination telling us to begin by drinking out of only one side of the cup and when the cup is done place the saucer on top and make a wish. The site tells us that some believe that the cup can " tell the past but only foretell forty days into the future." Basically the method is to use scrying as a tool to interpret what you see in the grounds and or foam left in the bottom of the cup.
Coffee magic is a huge subject, and I could go on and on, look for more posts on this topic in the days to come, as soon as I've had more coffee ! And do me a favor, when you wake up and press those share buttons below, maybe more coffee will come out !