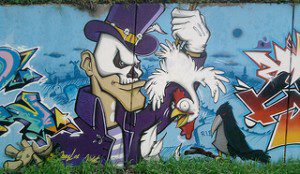 The Oxygen television network is promoting this week's new episode of Snapped: Killer Couples as the one with the "Voodoo Drug Dealer." A few days ago I posted about the Voodoo exhibit aboard the Queen Mary cruise ship, and it seems the mainstream media and entertainment industry is determined to drag Voodoo, Vodou, and Santeria (La Regla Lucumi) down to their lowest common denominator this Halloween season. The offending episode premiered on October 26 on the heels of it's "Fright Night Marathon." This level of disrespect towards ancient religions just seems to get worse and worse.
The information presented by the show, and the rest of the media, is confusing and conflicting. Adolfo Constanzo seems to have been practicing his own special blend of Santeria (Lucumi,)and Palo Mayombe, and also was associated with a Haitian priest. The actual religious facts will probably always be in question. No doubt the story is horrific, victims were sacrificed and boiled. This is not part of any African Traditional Religion I have ever seen or been part of. Human sacrifice is not practiced in these religions. The same way evil people can claim authority in any position of power, Constanzo clearly took advantage of the system. This week's episode of Snapped speaks of him sacrificing things like zebras in order to insure the safety of his drug lord clientele. As the parent of a murdered child myself, my heart goes out to the victims' families, whose stories are the real tragedy that no one wants to focus on. The Constanzo case is the stuff of legend on the internet. The site Crime Library goes into great depth about the gruesome details. They say his "Psychic Powers" must have finally failed him, and that he foretold betrayal in his tarot cards. This is some extreme stuff, exorcisms and Zebras notwithstanding . The media jumped all over it. Even the mighty Oprah Winfrey got in on the story-
This episode of Snapped is airing over 25 years after the crimes occurred. The story of Sara Aldrete and Adolfo Constanzo that is played out in Series 4 Episode 4 is a tragedy that should be put to rest. I know people love a good horror tale, especially this time of year, but when will it be time to hear about Voodoo/Vodou Houses feeding the homeless, blessing the poor and the like. I have witnessed and been part of these happenings dozens of times, but they never get the attention they deserve. Please do what you can to seek out respectful and responsible information and teachers, and to express your displeasure at this kind of thing even if it's only by turning the channel. How do you feel when you see these sensationalized extreme accounts of these religions? I would love to hear your thoughts in the comments below.