Babalon and it's mysteries never cease to amaze me, the same is true for the amazing contributors to Women of Babalon: A Howling of Women's Voices. The work of these sublime and phenomenal women are not only feaured in the book, but I have been also profiling a special look at their lives and their loves here on this blog Voodoo Universe. This fantastic offering below comes from Lorraine Sherwin. She gives us both a moving poem and some deep insight into her work, please share and comment, and if you haven't checked out the book already please please do!
The Union
My Holiness came to me in the shape of a devil
Entering bodies to impregnate me with his love
"There are different ways to get closer to me"
Said he
As we soured into nuit stars above
The sensation of falling and rising
Simultaneously sexual in truth
The manifestation of our Lady Babalon
With a sigil, a projection, through the roof
Traveling out through the gateway
Into mystery, reaching in, stretching back, being now
Bursting in on me, pushing in, blowing out
I see the star spangled glitter of my Soul
The rivers of blood and gold run together
Burning me, holding me up
The beating of wings is loud in my ears
As I deliver the promise with the kiss of my tears.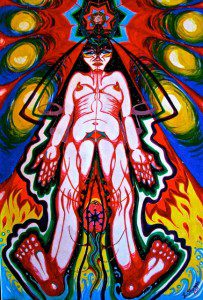 Why a Magickal Woman?
All my life, drawn to patterns, symbols, which eventually find their way into my drawings and paintings, musings.
Magick and Mysticism became passions. I absorbed Austin Osman Spare, A. Crowley and the ilk, devouring all I could. I felt the Book of the Law spoke to me. Realizing that the Crowley cult of personality did not attract me, it was the words that did.
My connection to nature from childhood, is strong. Being a child of the woods, hills and streams added to the sense of mystery in life.
Pagan patterns turning in my subconscious, traversing paths of the Great Initiator, birth, death, re-birth, sex, magick, makes me realize the deep meanings in these things, and the lessons if any are 'in life' regardless of the spell cast. We weave our ways only to find the truth, and looking back, see the carpet of our dreams woven.
I have played my part in ritual, my view anarchistic, my leanings to darker paths seeing of course there is no shadow without the light.
I preferred solitary work.
Love, dance, music, and art are the crossroads  of communion with my Soul.
Using my body and my partners body, to connect us to the mystery is uppermost now.
"Love is the Law, Love under will" Rings true more and more.
My interests lead me now in the direction of "Body Work", Which has been a huge awakening and fits with my magickal outlook. Moshe Feldenkrais's method of 'integration' is remarkable to say the least. With this knowledge and awareness through movement, connected to magickal practice, gives me a sense in my universe, strangely more control, through the act of letting go. The act of magick anyway, showing to your Self that you are ready to 'communicate' is uppermost and all the riches in the world are of no importance. The journey continues. Psychedelics have also proved very useful to me in the past. Everything is permitted. The use of them shamanically, is 'eye opening' to say the least. I do not preach a moral code, and do not listen to the moral preachers.
All these things for me are as gifts.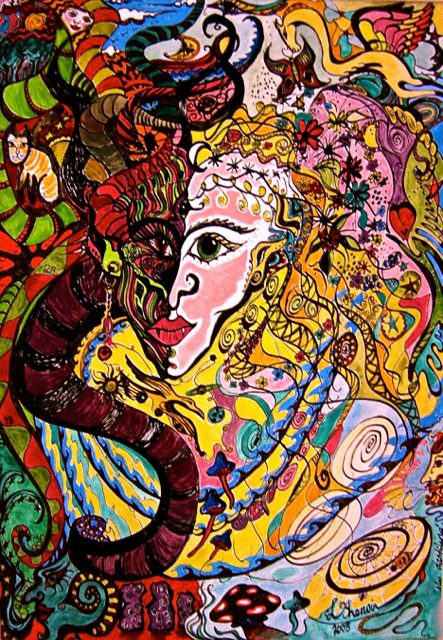 Whats Love got to do with it? …Well, what hasn't it got to do with?
I had a spate of pencil tantric art that I enjoyed very much! Sexual magick and love have come together 'no pun intended' for me.
Unconditional love prevails here. Self-Love the way to wonder. As I said, everything is permitted.
Re-programming old worn out patterns of behavior come to the surface with this kind of work, using the sex as focus ignites the flame of power and through 'the Lover' my Self exteriorises and Knowledge and engagement arise. Peak experience is assured, to feel the 'Magick' in this way is thorough.
It is the privilege of my life.
I was very pleased to receive an invitation from Mishlen Linden of Blackmoon publishing, to add to a book of this nature. Women of Babalon is a fabulous work, 16 women, howling from within and getting heard! At last a book written from the womans perspective, on sex-magick. Not to denigrate the guys of course, but we are naturally more 'within the dark spaces' being the gateway to life and death, as we are. We are but reflections of each other in this the sacred circle.
I added a picture and poem together called "Babalon and the Beast." And a collaboration with Sarah-Jayne Farrar, her wonderful prose go with my picture called Glaistig. Both of us turned on to Glaistig, the moorland green Pan-like woman, out of the dark bog water she comes, to take off your head if you displease her, or look after you and your flock in the night. Leave her an offering of milk in the 'cup and ring' marked stones for her.
I live with my Husband and magickal partner in crime Ray Sherwin, (A writer himself of magickal works) and our daughter, in Fuerteventura, where we continue our journey together.
I have a Facebook page for my altar ego Lidi de Zarre, she dances the Oriental fusion and Egyptian styles.