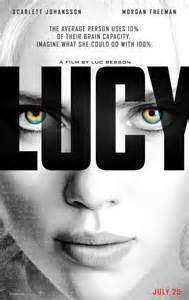 A recent viewing of the film Lucy has left my mind feeling expanded. At the core of the film is the age old question- What are we capable of? This query is at the foundation of all magick and all self exploration. This film was released in 2014 and if you missed it when it came out, it is well worth seeing. It is directed by Luc Besson, the man responsible for such classics as The Fifth Element and La Femme Nikita. Feminine power and possibility are a frequent topic here on this blog. In many ways our modern Sci-fi heroines mimic the magic and the majesty of the goddesses we love and honor. I am a big fan of Kate Mulgrew's portrayal of Captain Janeway a woman with a mind and a purpose. She led the way for more modern heroines like Lucy to take their rightful place in the light. Yet these developments raise some important questions.
What can we do to ourselves? What limits will we place on our abilities?
The premise is simple… our heroine is given an abnormal quantity of a drug that is used in fetal development, CPH4. This allows her to begin to maximize the use of her brain. In the NYT review Manohla Dargis talks of Lucy's "escalating physical supremacy [as] part of a one woman human potential movement that's leading her into total awesomeness." In the movie the part of science is represented by Professor Norman, played by Morgan Freeman (who I will always remember from my youth as 'Easy Reader' on The Electric Company.) Freeman tells us " that dolphins use up to 20 percent of [their] cerebral capacity," and then goes on to theorize what would happen if humans used their entire mental capacity.
Many of the abilities that Lucy develops in the film seem to border on the psychic, a nice touch that resonates with us magickal folk in the audience.
telekinesis
mind reading
eidetic memory
locate objects from a distance
Who wouldn't want mastery in these areas? Like the film says this " isn't evolution, it's revolution." Aren't we all searching for this internal revolution ? Film and television are the myths of modern day. They are how we create meaning in a world that often seems disconnected. We would all like to believe we are improving, hopefully.
In reality, humans do use their entire brains, the mystery is in why or for what. An article by Scientific American titled Do people only use 10 percent of their brains? explains that we do indeed utilize all of our mental capacity. It quotes neurologist Barry Gordon from Johns Hopkins School of Medicine as saying " It turns out though, that we use virtually every part of the brain, and that [most of] the brain is active almost all the time." So there goes Lucy's premise … but in reality something larger than our mental capacity is being opened up with the telling of this tale. Like all good mythic stories it has left us with a small number of answers and many more questions. How can we improve ourselves ? Who is really imposing the limits ?
I'd love to hear what you thought about this film, please leave whatever mental musings you choose in the comments below, and if you like what you've read please do remember to share !