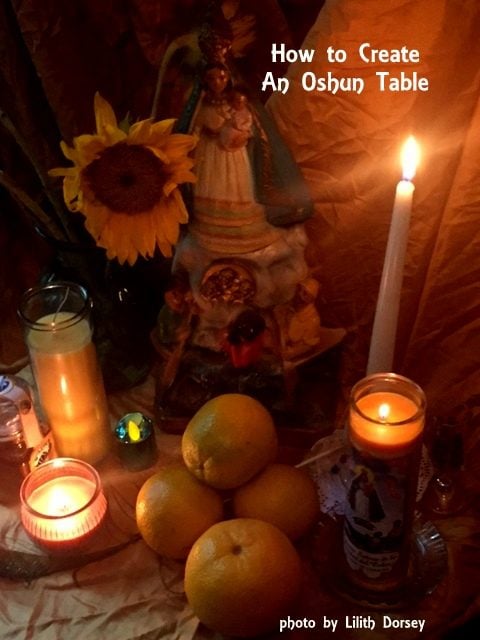 September 8th is the feast for Oshun in the religion of Santeria ( more correctly known as La Regla Lucumi.) Associated with Caridad Del Cobre the patron saint of Cuba, and celebrated on the Catholic feast day, Oshun is the Orisha in charge of the sweet, and sometimes stormy waters of love, money, and beauty. Her roots stem not only from this tradition, but go back all the way to Africa. In the book Oshun : Ifa and the Spirit of the River by Awo Fa' lokun Fatunmbi says " Oshun is the Spirit of the river in the West African religious tradition called Ifá. The word Oshun is the name given to describe a complex convergence of Spiritual Forces that are key elements in the Ifá concept of fertility and the erotic. Those Spiritual Forces that form the foundation of Oshun's in the Spirit Realm relate to the Creation of new forms through the interaction between polar opposites." This interaction comes beautifully to the forefront when we begin to create a sacred table or shrine for her.
Statues
Very often statues, or images of the Catholic Caridad Del Cobre are present on the shrine. This is an example of syncretism where images often cross religious lines. See the photo accompanying this article.
Herbs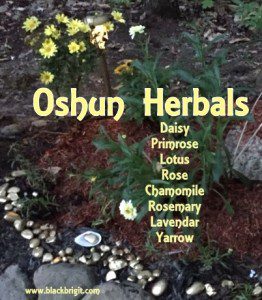 There is a delicate dance in all that she does. Sacred gardens and shrines are commonplace for the Orisa/Orisha in Nigeria. A few years ago we began an Oshun garden at the Brushwood Folklore center. It contains many of her sacred flowers and herbs.
An Orisha Oshun Herbal
details the process and also gives ideas on herbs you can use in your own offerings for Oshun. These include cinnamon, clove, allspice, dill, daisy, ginger, copal, primrose, basil, lavendar, yarrow, rose, chamomile, lotus and rosemary, orchid, and vanilla.
Food and Drink
Many who were unfamiliar with Oshun learned about her this earlier year, as she became a featured image in pop artist Beyonce's video Lemonade. In my post #Beyonce Pours Out Oshun's Honey and Lemonade I write how "the fine Beyonce herself even appears in a cloud of golden fringe and furs." Oshun is known to accept lemonade and also honey as an offering, but it must be tasted first. Other items she enjoys include : oranges, peaches, mangoes, squash, pumpkin and more. Here are a few recipes to get you started.
If you belong to a Santo house, as always please follow the guidance of your elders there. Oshun's feast day comes but once a year so be sure to spread the love. And if you have enjoyed what you read here, please share this post !