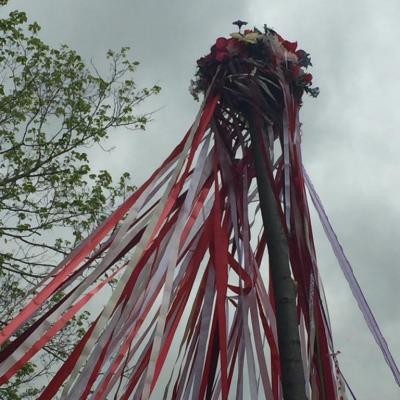 In the classic musical Camelot they celebrate the First Of May with the song "The Lusty Month of May." There's an even raunchier song called "First of May," by Jonathan Coulton. It goes a little something like this :
Cause it's the first of May, first of May
Outdoor f*cking starts today
So bring your favorite lady
Or at least your favorite lay
The water's not cold baby dip in your big toe
Maybe I'll see you in flagrante delicto
Grass below you, sky above
Celebrate spring with a crazy little thing called f*cking outside
No matter what you are singing, May is definitely the time for loving. The Pagan holiday behind all this first of May horniness is called Beltane, and it celebrates the return of spring and the fertile period. In my post Beltane Blessings Blossom Salad I write " Beltane is upon us… May Day, Maypoles, May wine, everything is in bloom and the time is ripe for love. It is a time for decadence and enjoyment." While Beltane is a great time to celebrate this energy, you can call upon it anytime of year to help put you in the right spirit. Use the following spell when you are getting ready for your own lusty rites of spring.
First Of May (Or Anytime) Spell
Outdoor You Know What Spell Oil
1/2 ounce Sweet Almond oil
3 Juniper berries
6 drops Lavender oil
3 drops Peppermint oil
3 drops Thyme oil
6 drops Lemon oil
3 drops Cinnamon oil
Glass bottle
Combine all ingredients in the glass bottle. Shake well to combine. Then to bless this mixture hold the bottle in both hands and blow on it with a long slow breath. As you exhale, think about love and wild passion coming into your life. This blend is designed to bring romantic love and passion into your life, as well as keep any bugs away from you during your outdoor adventures. ( some people can be reactive to essential oils so be sure to test before use, and don't put it on your sensitive places.)
For more spells for love please see my new book Love Magic. As always if you like what you find here please remember to like, comment, and share this post !