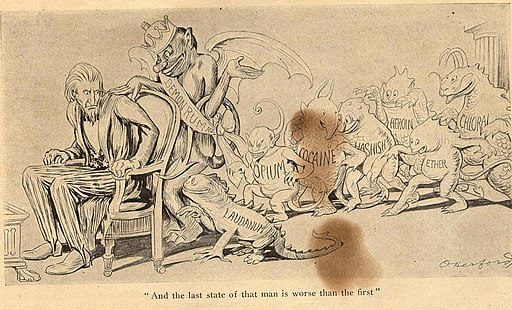 Rum magick is epic, and I mean that literally. There are tales aplenty telling the joys and dangers of what some call "demon rum."
When we look at rum's origins we discover it benefited, and was even made possible by the use of enslaved Africans. These unfortunate men and women were responsible for every part of the process- from growing the sugarcane, harvesting it, and turning it into molasses.
Rum is considered a sacrament and a sacred offering in Haitian Vodou, New Orleans Voodoo, and other African traditional religions. Rum magick clearly runs deep. In my post Liquor is Quicker it says "Rum is also the beverage of the Lwa, or deities in Haiti. In Haiti the specific rum of choice is Barbancourt, the best one around, ask any Haitian. "
This connection between spirits and spirit has not gone unnoticed by the liquor industry. Author Tony Kali in his post Invoking Spirits tells us "Recently Campari America released Baron Samedi Spiced Rum featuring an image of Baron Samedi along with images of traditional Voodoo symbols known as veve on the packaging. The bottle is sold in a black coffin shaped box decorated with various Voudon symbols." Obviously this raises some eyebrows in the area of cultural appropriation. Campari in it's press kit explains the rum was "named for a character that has existed in Haitian Vodou culture since the 18th century, the Baron Samedi Spiced Rum celebrates the country's rich traditions. Often pictured as a tall, handsome man wearing a black top hat and a black tuxedo, the Baron Samedi serves as the guardian for all things enchantingly dark and otherworldly. "
In the tradition of La Regla Lucumi, also known as Santeria, Rum is most certainly the beverage of choice. Some believe that the rum making process is governed by Ogun, the Orisha of War and the Forge. However Ogun isn't the only orisha that takes rum, it is also used as an offering for Eleggua, Chango, and others.
Rum can be used as a tribute at the start of a ritual, as an offering to the ancestors or Orisha during a ritual, or to cleanse and protect yourself as part of a closing to a ceremony.
As always if you have enjoyed what you read here please remember to like, comment, and share.