As usual it's been a busy year here at Voodoo Universe, the wider world is abuzz with the power and majesty of Voodoo and we continue to do our best to provide you with accurate and respectful information about the religion. The 2018 top nine features some old standbys and some new gems. If you haven't checked them out here they are:
2018 Reading of the Year – Each year this is one of my most popular posts. The ruling Orisha for the year was Yemaya and we can all see how this played out on both an international and a personal level.
Accusations of Abuse Against Isaac Bonewits– This blog continues to discuss the difficult topics, and this was one of my most controversial posts of all time. In the article I write " The accusations come from Moira Greyland, daughter of Marion Zimmer Bradley, in her book, The Last Closet: The Dark Side of Avalon. I have no direct knowledge of this woman's experience, and I can not speak to that, but I am sincerely sorry for whatever pain she may have endured. Isaac Bonewits however, was a close friend of mine for decades….He passed away in 2010, and is no longer able to defend himself. In more than one instance I saw him take a vocal stand against inappropriate behavior around Pagan children, even when others sat silent. While he and I never had an intimate relationship, we did have several conversations about consent, and what was and wasn't acceptable behavior. "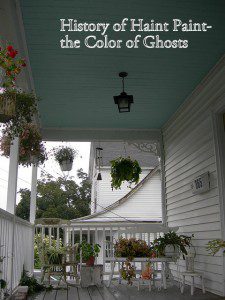 History of Haint Blue- The Color of the Dead – One of my favorite posts of all time is this one about the color Haint Blue. A haint is another way of saying haunt, or ghost, but the word is not used very often these days, even if the haints still exist.  The color, however is as bright and alive as it ever was.
5 Witch Marks That Might Make You Magick
– This post was new in 2018 and the subject is definitely close to my heart, or should I say hands. I wrote this blog because "Anne Boleyn had them, I have them, my daughters, have them, and my mother too… there are probably more than 5 witch marks that make you magick by birth according to myth and legend, but here are some to look at. For centuries witch marks were something that people tried to hide. They are marks of difference, and something that people can use as an excuse for persecution and stereotype. Hopefully, those days are behind us and we can all come out of the broom closet and celebrate these marks of magick. "
9 Real Truths About Voodoo Spells – Here we get a welcome chance to look at some of the important truths about Voodoo and Magick in general. Things like be careful what you wish for, you get what you pay for, and it ain't easy are all covered in detail. Please check out the post if you would like to learn more.
The Voodoo Truth About Papa Legba – is consistently one of my most popular posts ever since our honored Lwa known as Papa Legba took a place on the small screen in American Horror Story. It's been almost 5 years since I wrote this and people still ask questions showing how confused they are about this topic.
Both 21 Ways to Use Florida Water and Top Pagan DIY Gifts for Yule, have been perennial favorites here too with thousands of shares each, so please do take a look.
Black Witches Talk Back: An Open Letter to Atlantic was one of the pieces I was most proud of in 2018. I'm still working on a follow up interview with the organizer of the Black Witch Convention, and have yet to get a response from Atlantic. Stay tuned to Voodoo Universe for updates.
These are just the most popular posts, but I'd love to hear everyone's favorite in the comment section below. Thanks for all your support over the past year, and all the shares, likes, and comments to come ! Happy New Year !