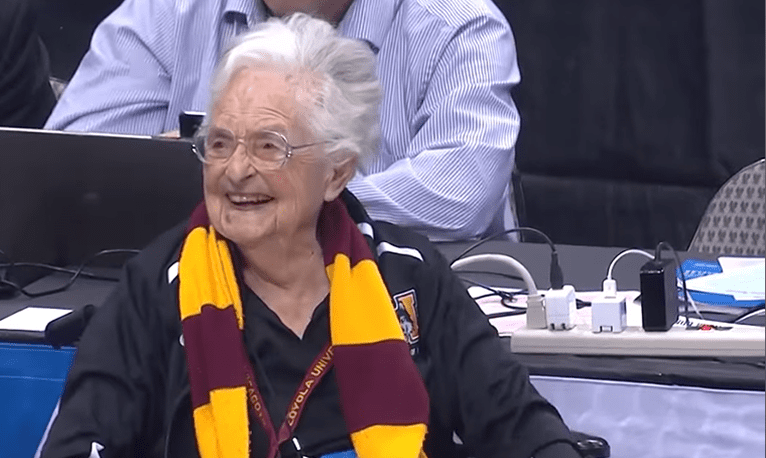 I love March Madness, sometimes called the NCAA Basketball Tournament. I love the buzzer beaters. The upsets. The great stories we hear about. I even love my busted bracket. You'd need a heart of iron to lament the UMBC Golden Retrievers' historic upset of Virginia. (Unless, of course, you live in Virginia.)
But this year, I think I love Sister Jean most of all.
Sister Jean Dolores-Schmidt, to my knowledge, doesn't play basketball. The 98-year-old nun has been pretty much confined to a wheelchair since she broke her hip in November. No matter: She's covered more ground than the Syracuse defense, scored more PR points than Duke's Marvin Bagley. As team chaplain/mascot/unofficial scout to the Loyola-Chicago Ramblers, she's become an unlikely sensation. She's landed in The New York Times and the Time magazine website. A few days before the tournament even started, she told CBS news in the following profile that she had Loyola Chicago making the Sweet 16. Which means that her bracket's in better shape than mine is.
In fact, the only person who doesn't seem to like Sister Jean is Knoxville, Tenn., sports radio jock Cody McClure, who showed just oodles of class after Loyola Chicago beat Tennessee in the second round. "F— Sister Jean -everyone," he posted on his Twitter account (without the dashes, naturally).
But let's not dwell on McClure. Instead, let's marvel at Sister Jean and her passionate fandom. She's partisan, no question: She wants her boys to win. "I ask God to be especially good to Loyola so that, at the end of the game, the scoreboard indicates a big 'W' for us," she told the
Times
. But she wants them to win the right way, too. Sister Jean remembers the last Loyola Chicago team to make the tourney back in 1963, and she says that the two teams have something in common: Their unselfishness.
It's nice to see someone like Sister Jean in the spotlight—fervent in her fandom while still keeping her priorities where they ought to be. She makes no apologies for her allegiances, to her team and to her God, but she's just so warm and genuine that she could never be construed as being offensive or annoying. (Well, not to anyone but Cody McClure, perhaps.)
"Worship, work, win" is Sister Jean's mantra—one that, according to the Times, is plastered inside the Loyola Chicago weight room. That's a pretty good motto for us all, I think. There are no guarantees, of course: Sister Jean's seen enough Loyola Chicago teams to know that. But sometimes, when you work hard and your priorities are right, some pretty special things can happen. Things that some people would even consider miracles.