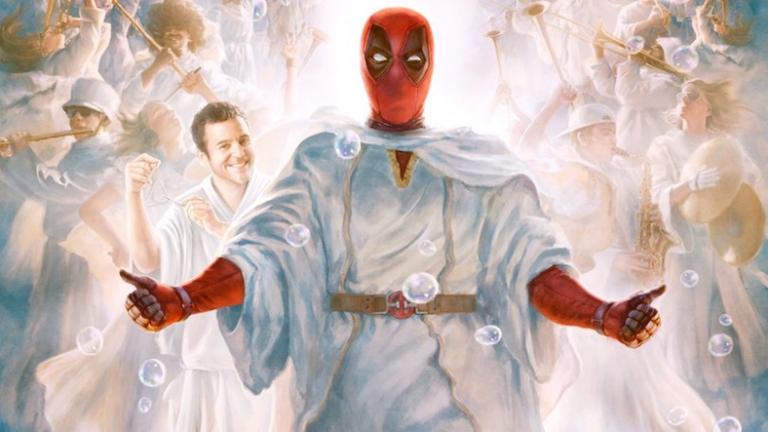 Deadpool fans were treated to a new poster last week, right in advance of the PG-13 cut of Deadpool 2, called Once Upon a Deadpool. It features a heavenly array of angels and puppies and bubbles and Fred Savage, plus Deadpool himself dressed in robes, looking a little like Jesus. The tagline: "Yule Believe in Miracles."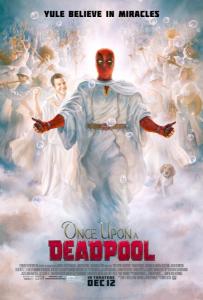 Maybe the movie's biggest miracle is that we have a full-length movie at all: I would've thought that, after its makers cut out all Deadpool 2's R-rated content, they'd be left with maybe enough for a … 30-minute feaurette? A nice, tight novella?
But a close second, perhaps, is how strangely spiritual the original was, and how presumably religious the PG-13 cut will be.
All this religion, in the context of a franchise like Deadpool, is not necessarily a great thing for the pious. It's one thing to see a Christ-like avatar in Superman: It's quite another to draw a clear, straight line from Jesus to the profane, pansexual Merc with the Mouth. Deadpool (as embodied with, alas, charismatic aplomb by Ryan Reynolds) is as irreverent as superheroes get: If the antihero would ever turn the other cheek (unlikely), you can be sure he'd have a tongue firmly planted in it. Lots of people would point to all Deadpool's spiritual spoofery and call it sacreligious. And they might have a point.
In the leadup to Deadpool 2, Michael Foust wrote for Crosswalk.com that, "[Deadpool] has the wrong motive, does the wrong thing, and insults everyone along the way. He's the worst type of antihero. He makes fun of the good guys." Can't disagree with any of that.
But profane, satiric burlesque or no, we still get a hint of something better underneath.
Deadpool 2 has wallowed in religion from the get-go: Its first poster featured a reclining, passive Deadpool touching the muzzle of the movie's ostensible villain, Cable, a la Michelangelo's Sistine Chapel.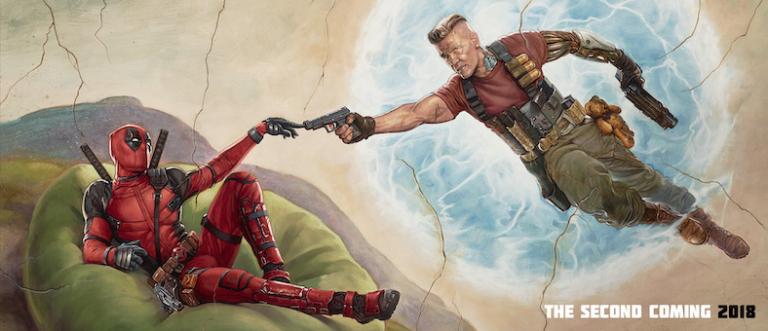 The movie itself doubles down on religious elements and explicit Christ-like comparisons. Heck, Deadpool makes them explicit himself. "The Lord works in mysterious ways, don't I?" he says. At another juncture, he declares he's been anointed by a "higher power." He talks up the franchise's rivalry for R-rated box-office supremacy with The Passion of the Christ, noting that the original Deadpool earned more than Passion—at least overseas, where "there's no such thing as religion" anymore.
But for all of Deadpool's irreverent wisecracks, Deadpool 2 really is a story of salvation—that is, trying to save not just the life, but the soul of a 14-year-old boy named Russell. Some have seen Russell's future and sees nothing good therein, but Deadpool believes that this boy is still worth saving, and this immortal being is willing to, yes, die to save him. No, more than that: To redeem him.
"How long does it take to save a human soul?" Deadpool asks. It's a pretty profound question in the midst of a pretty mucky movie, and I'm still don't quite know how to feel about all the movie's religious echoes. Does it undermine faith? Or could it, in its own way, point to something better and more beautiful? Honestly, I think it leans toward the former, but that doesn't mean that it couldn't work in a better way for some.
In a year filled with landmark superhero movies—the awards-worthy Black Panther, the game-changing Avengers: Infinity War, the blockbuster Incredibles 2—and with all due respect to Aquaman (which I haven't seen yet), Deadpool 2 is certainly the year's most explicitly spiritually themed superhero movie, even if all that spirituality is murky at best. Perhaps it's ironically appropriate, then, that, in the shape of Once Upon a Deadpool, it's getting its own second coming.