by Wendy Murray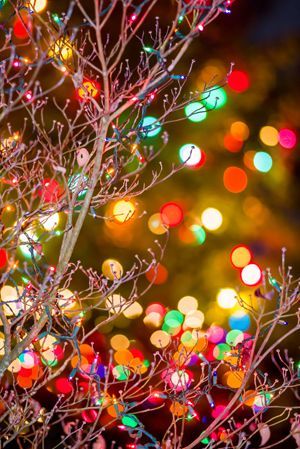 Once I pondered if I believed in "Christmas magic." My primary impulse had been to scoff at the idea. But then a memory arose. I saw colored Christmas lights draped over gabled roofs of stately houses. I was seeing them from a car window as we drove along in the dark.
The year was 1968. And on that particular Christmas, an odd convergence of unexpected circumstances fell together in a way that ended up configuring magic.
The first circumstance was my having to be on crutches because of a knee injury. The second was the birth of my brother, who was born late that afternoon on Christmas Eve. The third circumstance was the central role placed upon my grandmother that night.
Because my parents were at the hospital, my mother just having given birth, it had fallen to my grandmother, Mema, to take charge of transporting my three sisters and me from our home in Chagrin Falls to East Cleveland, where my aunt and uncle lived and where we would share our Christmas Eve dinner. 1968 had been a watershed year for Mema because her husband, my grandfather Pepa, had died suddenly of a heart attack in the bedroom and Mema had been left on her own. This was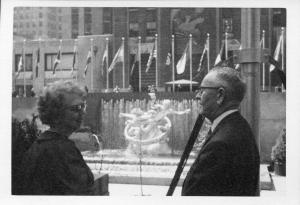 catastrophic for her. Pepa had believed in her, supported her writing aspirations, encouraged her and loved her devotedly. When he left this world there was no one left to lend my grandmother that buoyancy and hope, and she would never recover from this. Secondly, if ever there was a  season of her life when Mema needed the companionship of her devoted husband it was this one — the season of mental decline was the threshold of which she stood upon. She was losing her memory.
Mema, as I remember her, seemed continually confused. For most of my youth, until I was able to read her journals as an adult, I thought that she had always been confused, that "being confused" was who she was. There is another story to tell here about how wrong I had been on this, but that is not this story.
That night on Christmas Eve in 1968, the evening my brother was born, the plan had been as it always was, to travel the 45 minutes it would take to get from Chagrin Falls to my aunt's home in East Cleveland for Christmas Eve dinner. In a turn no one expected, it had fallen to Mema to make this happen. It was up to her to take charge and transport us fo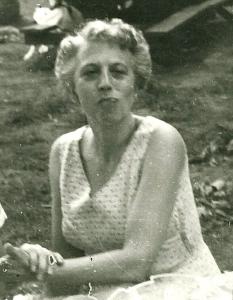 ur girls from our home to my aunt's.
So here we were piling into it, I in the front passenger seat because of my crutches and injured knee and under my grandmother's watchful care.
Driving the van was no problem for Mema. Navigating the roads from Chagrin to East Cleveland proved more daunting. As afternoon light faded and darkness fell, the more confused she became driving these unfamiliar roads. We girls were of little help when it came to naming streets and what-not, all of us young–not driving yet– and in Christmases past having only passively gazed from the car windows at passing houses and their Christmas-light displays. There is no need to point out that neither cell phones nor GPS systems existed. So we were stranded in the night in a VW van on snowy roads we did not know with a driver whose sense of duty was the last thread of hope we clung to in that van amid her otherwise confused, bereft and sorrowful near-capitulation. (Where was Pepa when you needed him?)
But Mema had an injured granddaughter sitting to her right and three other granddaughters sitting dependently in the seat behind her.
Flourishes of panic arose from my grandmother at points that night, but she did not become unraveled. There we were, lost in the dark in her van and in a way helpless. We looked to the only hope we had: my confused grandmother — who, though her heart was in shreds from the loss of her husband — pressed on.
Then, pressing on, in turn we started to see lights, Christmas lights on gabled roofs of stately houses. Oh, I remember that house! one of us would proclaim. Yes, there's the house with the winding staircase we can see through the picture window! There's the house with the sleigh! There's the house with the star!
The lights arose in the night and brought glad tidings– lights that shone only at Christmas on houses we saw only on Christmas Eve. We knew those lights. And they led us. They arrived right on time. And we found our way.
I have pondered why this Christmas night stands out in my memory as the one that really did capture that elusive feeling of magic. Insofar as it is possible to grasp such things I suppose I see it this way: we were thrown into circumstances we hadn't expected beyond the reach of established consolations. We were lost. We didn't know where we were going. Then lights arose and we followed them and we found our way. And this is the essence of Christmas: a Great Light rises in the darkness and it arrives on time.