Samhain is the Witch's Sabbat celebrating the peak of the Autumn season, the third and final harvest in the Wheel of the Year, and is the High Holy Day often viewed as the culmination of that year's The Great Work of Magick. The name of this holiday is pronounced Sow-wen because it derives from the Gaelic samhuinn and the Old Irish, samain. According to the online etymology dictionary, it literally means "Summer's End." To the Celts, this was the beginning of Winter, and the New Year.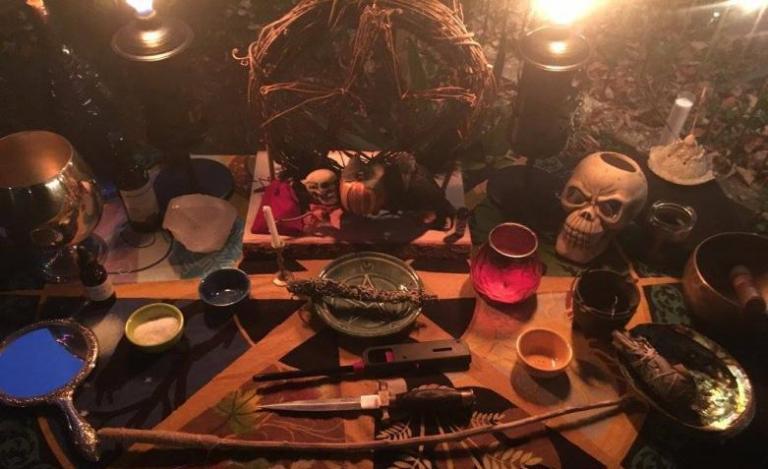 In American society, Samhain is often conflated with secular Halloween (October 31), the Mexican celebration of Dia de los Muertos  (November 1) and the lesser Catholic holidays of All Saint's Day (November 1) All Soul's Day, (November 2). All of these celebrations turn their attention to the "death" phase of any cycle. The religious holidays at this time tend to include a veneration of our beloved dead, whether they be Saints or family members. Witch's Samhain drawn heavily from the Celtic Pagan themes of a conclusion of the harvest season, the necessity of death to sustain life, and the inevitable journey to the underworld.
Depending on the tradition of witchcraft you practice, Samhain may be celebrated October 31st according to the Catholic calendars, or astrologically when the sun reaches 15 degrees Scorpio, which is the exact mid-point of the season. Astrological Samhain typically falls sometime within the first ten days of November. To discover the astrological date of sabbats this year, I recommend archaeoastronomy.com.
This is my favorite holiday, so I've written much about it over the years. Following is an index of my articles about Samhain, Halloween and the Autumn, including meanings, reflections about our past celebrations, our rituals, and a few spells for the season.
Blessings of Autumn,
~Heron
The Meanings of Samhain
The Rituals of Samhain
Reflections of Samhain Past
The Spirit of Halloween
Spells and Magick of Samhain
A Samhain Hazelnut Charm for Luck and Protection in the New Year
Pumpkin Spice Witchcraft: Spell for Potency, Protection, Passion & Prosperity