When Beltane tides peak, we witches celebrate the Grand Sabbat of High Spring that is certainly the most juicy and delicious of them all. Spring peaks in the Northern Hemisphere when we reach 15 degrees Taurus on our journey around the sun. This typically falls during the first week of May. For all your celebration needs, I offer this index of my articles on the thealogy and practices of this holiday, including rituals, craft projects and planning for Maypole dances. Read on for sexy poems, silly songs, and my recipes for aphrodisiacs and tasty feast dishes. Just click on the images to open the full articles!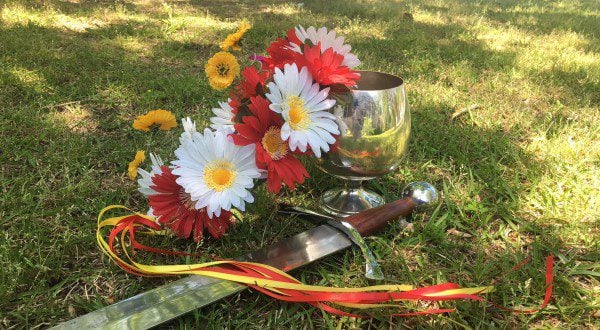 A Case for Astrological Timing of the Sabbats: When do witches celebrate Beltane?
In some traditions, the set calendar date of May 1st, or "May day," is when Beltane is celebrated. As far as I'm concerned, Beltane is a whole 6.5-week waxing season, and you can celebrate it any time you like up until its peak, but I do not agree that May 1st is its peak. To find the astrological date this year: https://www.archaeoastronomy.com/

To use a sexual metaphor (which is apt for Beltane), celebrating on May 1st and then packing it in, as though the moment is over, is like premature ejaculation and rolling over to fall asleep while your partner is still all hot and bothered. Don't stop now! We are just getting to the good part! Let's squeeze every delicious drop out of this most succulent season!
Allow me to make my case…
https://www.patheos.com/blogs/witchonfire/2017/05/beltane-calendar-astrological-timing/
Beltane Rituals
Beltane: Once You Go Witch, You Never Switch
This is high tide of the season of fertility, and everyone is twitterpated, bursting with lusty motivation, passion and burning desire to do…something or someone. Most of the witches I know are ravenously plowing the fields of their gardens…others ravenously, well…you know. <winks>
Rites of Beltane: Sacred Marriage of MayQueen and King, Tying the Knot
One way to celebrate the Sabbat of Beltane, is through enacting the sacred marriage of the Goddess and the God. The rites will resemble a marriage ceremony, but it is The Two Who Move As One who are the bride and groom. Two of our members aspect the Maiden Goddess and the Horned God of the Greenwood. In ritual drama…we enact the mysteries of nature, of sovereignty and choice, of service and sacrifice, between the Eternal Land and Her chosen King, for this turning of the wheel. It's a grand ol' time.
Rites of Beltane: Sacred Marriage of MayQueen and King, Tying the Knot
Beltane Crafts
Crafting a Beltane Maypole with Help from Pythagoras
This dance symbolizes the act of coupling to fertilize and create life on the largest metaphorical scale. Just like within the actual Great Rite, the phallus goes into the yoni, and the Symbolic Great Rite wherein the knife goes in the cup, when we erect the Maypole, the pole goes in the hole. <boom chica wow wow>
Crafting Sovereignty at the Grand Sabbat
In 2016, The Sojourner Tradition rethought and retooled how we would celebrate Beltane throughout a three-day camping retreat. This story describes my favorite new things we tried, including the beautifully and magickally made crowns made for the MayQueen and MayKing, and their elemental court.
Sexy Poems and Silly Songs
Beltane Lovers
…Cosmos thrumming,
earth arches to join him,
and they dance again,
in sabbat sweat and salt,
enticing spice of wood smoke,
erotic perfume, blossom unfurling,
flesh yearning for that sacred heat
and surrender to the burning…
Beltane Songs for Maypole Dancing
Spring is in full dancing swing, and just in time for your reels and jigs around the Maypole, I present to you two brand new songs, just written by my covenmate, Epona Petra: Ding Dong, The Witch is Wed, and Beltane Maypole Song
Beltane Aphrodisiacs and Feast Recipes
Witchin' in the Kitchen at Beltane: Chocolate Aphrodisiac Brew
Beltane is the peak of perkiness, the apex of potency, and the apogee of exuberance. It's a sexy time, y'all. Let the shenanigans commence! Need a magickal brew to help raise his Maypole, and part her veil? Try this tasty high-octane aphrodisiac in your chalice this sabbat…
Witchin' in the Kitchen at Beltane: Chocolate Aphrodisiac Brew
Witchin' in the Kitchen: Bacchus' Spear and Bean Salad
Nothing like high spring to stir my cravings for fresh foods. I love to make this marinated asparagus dish that is great when served both hot or cold. This is handy for those camping trips, and Sabbat picnics that head deep into the woods where it is difficult to keep foods hot, or refrigerated.
Witchin' in the Kitchen: Bacchus' Beltane Spear and Bean Salad
Witchin' in the Kitchen: Lusty Miso Braised Radishes, Vegan
Radishes are used in witchcraft for protection and fire magick because of associations with the planet Mars. But here is my favorite part: according to Scott Cunningham, radishes increase lust when eaten! (1) Good thing this recipe is vegan, so I can share them with my sweetheart! <winks>
However you celebrate this season, I hope you'll have a safe and exuberant good time. May you all ride these tides, and your lovers, in ecstasy, with respect and responsibility as the god/desses that you are.
Bright Blessings!
~Heron