I'm just back from Atlanta, where great fellowship could be found at the third annual Mystic South. I've had the privilege of attending all three years now, and with each return I marvel at the depth of sincerity, wisdom and graciousness found here. This is a NICE conference. I do mean that the people you'll find there are abundantly NICE, which is saying something special. The Mystic South Conference is expertly organized with a crack team of smart and snarky pagan heroes. They craft a uniquely southern magickal experience, with an eye on broad inclusion and sensitivity. This year I found fellowship, inspiration and great encouragement.
Over lunch on Sunday, Jason Mankey (A keynote Speaker this year!) mentioned that this event doesn't seem to have as much of the Witch-Drama that goes down at other conferences. He'd know, as he goes to just about all of them, and I agree. Seriously, if you found anything less than boundless opportunity and open arms of potential new friends, you might have brought your problems with you. Perhaps that is the southern charm and hospitality of Atlanta seeping into the proceedings.
Holy Pilgrimages to Conferences and Festivals are Important
I've posted before about my experiences presenting at Mystic South. Year one, I blogged about the themes I found there of "honor and gratitude, sacrifice and reward, and most importantly, the power of taking a holy pilgrimage." To read that post click the image link below.
Diversity of Exposure and Experience
Year two, I reported on the five benefits I found at Mystic South. Of course, all of these were still abundant this year.
Cons like these help cultivate new pagan leadership.
You can feast at the pagan buffet of diverse spiritual experiences in relative safety.
A cross-pollination of ideas keeps us all fresh and evolving.
Advanced guidance can be found in a much higher concentration that we wyrd folks will ever find just wandering around in the wild.
The casual moments of dancing, drumming, or chatting over a drink in the bar with other pagans can be priceless.
Connections with Pagans of Like-Mind
This year the conference grew to about 450 attendees. I presented two workshops myself that were packed to capacity, but every single presentation I attended was a full room of enthusiastic folks leaning in to absorb, contribute and be challenged. For me, the best part of this conference in year three, was reconnecting with friends that I might ONLY see at this yearly event. Friends from Canada, California, Texas, Florida and all points between…flock in for a few days where we reconstruct our Mystic temple together. This temple is unique to this event, I assure you, it has a very special tone and vibe.
Plus, I get to meet both the authors and bloggers that I read, as well as my own readers and on-line acquaintances. I adore it when someone approaches me to introduce themselves. That exchange of gratitude is a treasure. If you like someone's writing or their workshop it is always nice to hear it in person. I really do appreciate the moral support and encouragement to keep up this challenging, and often criticized, work. So, thank you to everyone who put their face and a handshake to match their facebook name for me.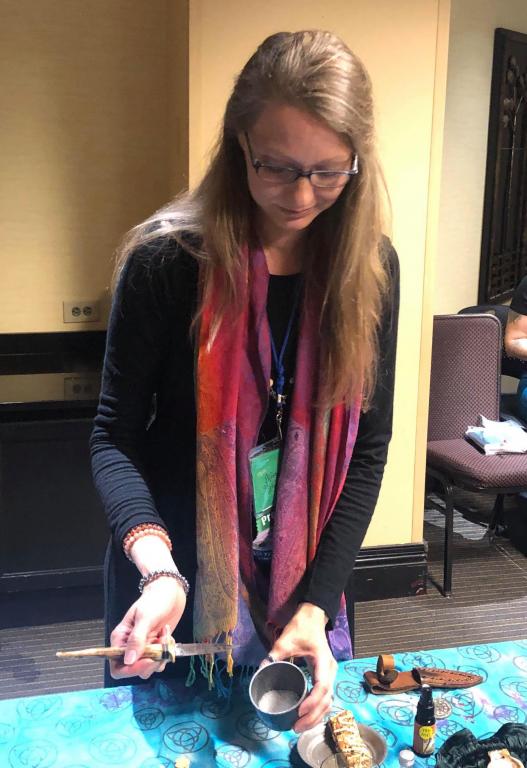 Great Speakers on Diverse Topics
This year's presenters included so many Patheos Pagan Bloggers, and authors I lost count. I was especially inspired by the presentations by Jason Mankey of Raise the Horns, who packs tons of valuable information into a hilarious hour that keeps you chuckling. His talk based on his book Transformational Witchcraft, was as hilarious as it was affirming.
Ivo Dominguez' classes always deliver! He wrote the most referenced book in my library, Practical Astrology for Witches and Pagans, which I've reviewed here on the blog. Now it is freshly signed! I even recommended it to everyone during my Lunar Witchcraft workshop, because until I finish my own book manuscript, his book is the best resource out there for Astrology based witchcraft. Ivo impresses me as a scholar and a gentleman every time I'm around him. (Yes, I can be a fan-girl.)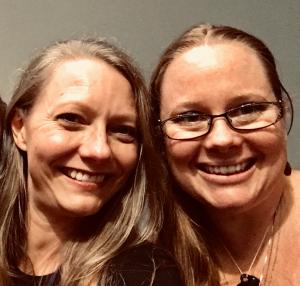 Annwyn Avalon, Patheos Blogger of Water Witch, and Weiser author of Water Witchcraft, was my car-pool buddy down to Atlanta. Yes, we proved we can chat about witchcraft for 7 hours straight!  Annwyn gave a great presentation on Sacred Wells. It was great to catch up with an old Eastern NC acquaintance, and to further that friendship.
Fellow Patheos Blogger Cyndi Brannon's talk on the Goddess Hekate filled in some gaps in my understanding, and she signed my copy of Keeping Her Keys! Woot! I also got to meet Patti Wigington who's taught me so much over the years through her articles on-line, and Lilith Dorsey of Voodoo Universe. Both of them were awesome, genuine and really approachable. It took a trip to Atlanta to finally meet my fellow North Carolina based Thorn Mooney who writes for Patheos at Oathbound; I might be a bit dazzled by the collective glamour of so many amazing witches in one bar…plus, there was this tequila cocktail called The Baroness, and I may have had more than my quota.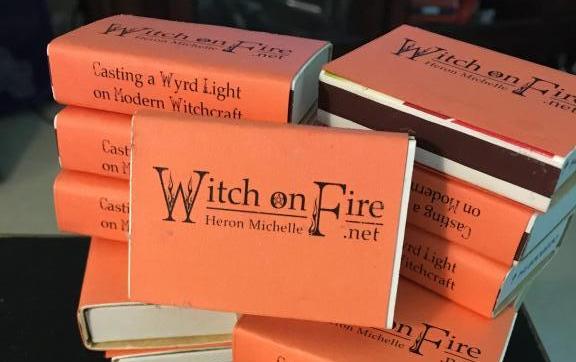 "Witch on Fire" Matchboxes were a Hit
This year I made "Blog Swag" for those who attended my workshops, and any reader who introduced themselves to me. I made Witch on Fire Matchboxes, because if there is anything I need lots of, it's fire-makings. Someday I'll figure out how to summon finger-tip flames directly from Hades. Until then, match sticks. Next year I'll be sure to make twice as many so we don't run short again.
Everyone who attended my workshops on Lunar Witchcraft on Sunday, and No More Chur-cle: Engaging Ritual Techniques for Everyone on Saturday, I appreciate your beautiful presence. All those presenters and attendees who share time, space and expertise with me, I appreciate all you give. Mystic South's board of planners: Heather Greene, Star Bustamonte, Marla Roberson, Ryan Denison, Gypsey Teague, and Stacy Psaros, y'all rock, and I really, really appreciate all you've made possible. Thank you.
If you've never been to a pagan conference before, consider joining us in Atlanta next summer. You won't be disappointed! Until then, much love to you all. I promise to finally get that book manuscript I keep talking about submitted and into print!
~Heron Michelle