Lammas is the Witch's Grand Sabbat of high summer. This sabbat is astrologically celebrated at the mid-point, or 15 degrees, of Leo. To discover when this date falls next, check out this site: https://www.archaeoastronomy.com/ This is the first of three harvest rites in our Wheel of the Year. Many pagans also call it Lughnassadh, when the focus is on the Celtic lore of the season. This time of year is one of my favorites, thanks to delicious garden-fresh food, and fun in the sun and water like a little kid at camp. Our coven typically grills out, throws spears, and laughs until our faces hurt. Then we get down to the serious magickal business to celebrate the interrelationship between toil and harvest, sacrifice and gratitude.
Below you'll find excerpts and links to articles of several rituals, confessions and tales of my witching adventures, with recipes for incense, feast dishes and cocktails. Just click a link image to open an article!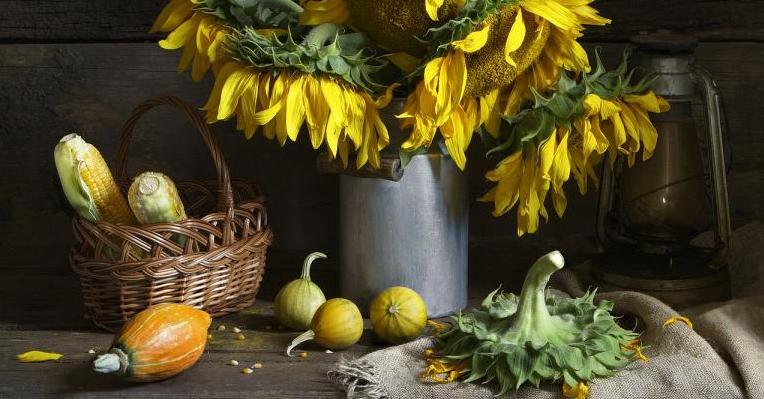 For me, the ritual purpose of Lammas is the harvest the first fruits of our labors, so that we may savor them with gratitude. In our Great Work of Magick we begin reaping that which we sowed at Imbolc. For each of these gains, we are grateful. For each nourishment of the soul and body, we remember that life feeds on death; that the God of Light grows as the grains, and as the God of Darkness, is willingly shorn so that his people may thrive. Lammas is the satisfaction of toil and service. Lammas is the joyful sacrifice, given in humility.
Lammas Ritual of Integration and Sacrifice
This ritual is suitable for any sized group, from a solitary rite, family observance with the kids, all the way to a large group. It utilizes a farm-fresh, newly harvested ear of corn for our magickal work of integration and sacrifice. We will craft a corn dolly out of the husks to be burned later at Samhain – this dolly represents that part of ourselves (and our labors) that we will surrender in sacrifice, so that we may emerge from this Great Work a better, stronger Witch. We will also do some Kitchen Witchery of a fire roasted corn on the cob, that we will later consume in feast, as an integration of all we are already achieving. This will "sustain" us in the coming work of the next two harvests.
Group Lammas Ritual: Sharing the Grapes of Gratitude
Despite the heat, I love Lammas rituals outdoors. This group ritual does not require there to be a lit fire, which we all know can be way too hot to enjoy that first week of August. This Lammas ritual includes the refreshing sharing of grapes to symbolize our harvests and gratitude, but also the toils and sacrifices we must still make to achieve our goals.
Tales of Lammas and Lughnassadh Past
This story is of my favorite Lammas celebration. We don't always have a focus on the traditional Celtic aspects of this pagan holiday often called Lughnassadh, but this year we really, really did and it was a blast! The Celtic God Lugh and Goddess Aine were honored in our ritual: Lammas Ritual of Integration and Sacrifice. There were many things about our Sabbat together that still have me grinning today. Hint: it wasn't solely the ritual that made it a good sabbat, there were many adventures to the day!
Lammas Sacrifice and the Sacred Mission
This article was my very first post on Patheos Pagan. That was 2015, and so this Lammas completes my fourth blogging year!
"I don't know about y'all, but down here in North Carolina, I'm feeling the heat of this fire-y sign; feeling the juicy, high-tides of this greater sabbat deep in my solar plexus, deep in my Will. I am on fire to continue the magickal work I began back at my Imbolc dedications."
Lammas Confession: I Burned the Witch
This is the Lammas of my life. As the single mother, the priestess, the captain at the helm of the ship, I was feeling the sharp sting of sacrifice demanded of that service. I neither much wanted to keep on living this persona, nor to keep pushing this stone of witchcraft up the damned hill. Like Sisyphus, my sacred mission felt like cosmic punishment. It is fair to say I was having an existential crises.

Recipes For Lammas Sabbat Rites and Feasts
Lammas Incense Recipe for Fiery Leo Magick
For my practice of witchcraft, I like to create my own herbal incense recipes. I choose ingredients whose magickal correspondences are appropriate to the goal of whatever rite or spell is afoot. I like to start with a look at the astrological goings and flowings of the moment. For example, let's make one for Lammas Sabbat with Fire, Leo and Solar ingredients.
Witchin' in the Kitchen: Lammas Corn Salsa over Cheesy Tomato Polenta
Here are a few of my favorite recipes that take great advantage of the summer garden abundance of tomatoes and peppers. It will thrill your coven-mates this Sabbat feast. It's easy to make ahead of time, is even more delicious the second day, and is simple to transport for picnics and pot-lucks. YUMMO!
Witchin' in the Kitchen: Lammas Corn Salsa over Cheesy Tomato Polenta
Lammas Cocktails for High Summer
Cocktails are basically "potions" if you awaken and charge them for an intent. This alcoholic beverage may look like a dirty mojito, but if you give it a job to do, besides get you drunk, its also a great chalice brew. The peppermint and lemon are both prized for their benefits of purification and love, healing and friendship.
Happy Lammas-tides! Have fun!
~Heron Michelle