What does it mean that at the most scary point of The Hunger Games, my son left my side to go sit next to his father?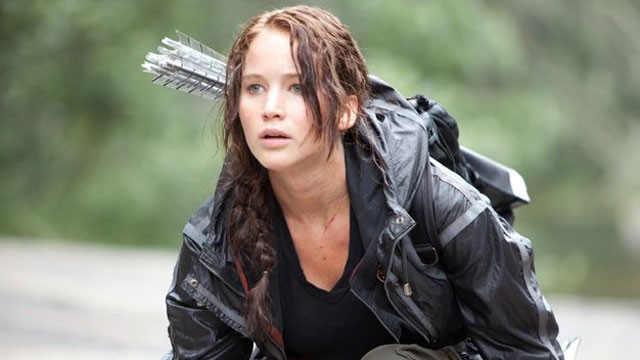 I'm sure you, like most of America, have already seen the movie (It's made almost $303 million at this point).

We finally went last Saturday on Holy Easter because there was not one movie-sized slot over in the 3 weeks before then.

There was much weeping, wailing and gnashing of teeth when I said:
1.
Ling couldn't go to the midnight screening on the Thursday opening night because she couldn't afford to be tired for school, and even more importantly, there was no way in the world I was going to stay up to pick her up.
2.
We couldn't watch it for 2 weekends because of the 9 Beauty and the Beast performances
3.
They couldn't cut school to see it
4.
I wanted to attend Maunday Thursday service instead of the Hunger Games
If by chance you are part of the 1% who've missed the hoopla around The Hunger Games, the movie is based on the first book of a trilogy by Suzanne Collins set in a future dystopian America.

After annihilation and nuclear holocaust, the oppressive Capitol subjugates its subjects by throwing annual Hunger Games, where its 12 districts each send a young male and female to fight to the death while the whole nation watches on TV.
It's a dark, dark set of books.

My 3 kids and I have swallowed them whole.

Their paradox is that they're startlingly violent, while ultimately preaching a message about power and peace.
The kids have waited with bated breath for the movie to come out—following the casting of the leads, the production of the movie, all made convenient by my subscription to Entertainment Weekly.

(A very guilty pleasure, completely worth the 800 expiring frequent flier miles my sister used to give it to me!)
So finally, instead of fasting, praying, reflecting on the depths of what it meant for Jesus to lie dead in the grave, after they had finished folding and putting away laundry, the 5 saw the show.
Family comments afterwards:
·
Scott:

That was great!!

Finally a strong girl character
·
Ren:

Oh my gosh did you hear mom scream?

AAAH (imitation)
·
Kid 1:

I'm so mad, they cut ___ and ___ and ___ .
·
Kid 2:

And ___ and ___ !

How could they? (can't remember the specifics because I didn't remember the scenes and characters who'd been cut.)
·
Kid 3:

Isn't it interesting there were no famous actors or actresses
·
Me:

I think Woody Harrelson and Stanley Tucci are pretty famous.
·
Kids (in unison):

Who're they?
Scott liked the movie enough that he's taking whoever's interested back to see it again tomorrow.

I won't be there since I'll go to a brunch instead.
It'll be fine since I'd be sitting alone anyway.