Tomorrow, for the first time in 14 years, I will not host Halloween, nor will my kids go trick-or-treating. They've decided they're too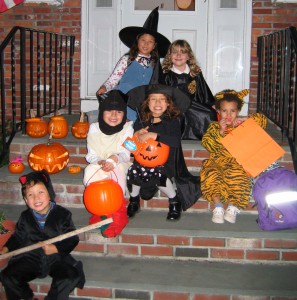 old. Wah!
There are some from my faith tradition who believe it's sinful to celebrate Halloween. I actually didn't know that until I innocently suggested to NYU student leaders that our fellowship host a Halloween party 24 years ago.
"What???" the 3 students almost shouted, looking at me in horror. "You celebrate the devil's day?"
Oops. Talk about stumbling on a cultural landmine! Somehow I got out of that situation without the students believing I worshipped the wrong side.
Perhaps because of their strong reactions, perhaps because Halloween's ghoulish and sexy vibe weirds me out, I've been a mixed Halloween celebrator.
As my kids have begged to decorate for Halloween, I've acquiesced to black garlands with little pumpkins, spider webs and jack-o-lanterns. I even wear bat earrings the kids bought me. But I've balked at going all out—at putting cemetery stones or mummies or severed heads in our yard. Maybe because I really believe a wrong side exists and means bad things for us, I don't want to tread too far into that territory.
But fun, friends, community, candy, trick-or-treating? Bring it on!
When Ling was 2 and Kai 6 months, our friends invited us to trick-or-treat at their home in Boston. Ling chose to be Tinkerbell and I chose Winnie the Pooh for Kai because it looked like a snuggle suit with ears. Having not trick-or-treated since junior high in Hawaii, I couldn't picture trick-or-treating in the cold.
As we trick-or-treated through Dorchester, I saw that Halloween was a community holiday like no other. No one could see Ling's Tinkerbell costume under her winter coat in the 35 degree weather, but everyone was out—grandparents, parents, kids. People smiled. People greeted one another. There was tangible warmth in the frigid cold—a feeling so unlike normal Boston.
By the next Halloween, we had bought a house in what's known as Halloween Central where our neighbors lavishly decorated and parents drove their kids in to trick-or-treat. Our neighbor two doors down built a shed in his front yard for a different macabre scene of gore or dismemberment complete with scary music each year. (After Halloween, he took out the gore and replaced it with Mary, Joseph, baby Jesus and Christmas music!)
That first year, we decided to host Halloween, inviting some families for chili and trick-or-treating. The former owners had warned we'd need scads of candy. I bought 9 bags of Snickers thinking I was generous.
Men stayed behind to give out candy. Moms took the gaggle of toddlers out—Kai still fit the Winnie the Pooh costume. 40 minutes later, all the Snickers were gone and we had to raid our kids' loot to restock. The next year I bought the 1000 Smarties and 500 Dum-dums packs, gave 2 candies to each kid and still ran out after a couple hours.
We kept hosting Halloween since then, even as we moved to a different town. Sweet potato cake and ginger molasses cookies joined the chili rotation. Original guests moved away and new friends came for dinner.
So I'm mourning the end of a tradition. The end of cute costumes and an opportunity to celebrate with new friends. The end of 20 pounds of extra candy coming in that I get to raid. My friend's mourning the end of sweet potato cake.
The chili and ginger molasses cookies recipes are available in the recipe link. Here's the sweet potato cake:
Spiced sweet potato cake with brown sugar icing (adapted from Bon Appetit)
Cake
4 8-ounce red-skinned sweet potatoes (yams) to make 2 ½ cups mashed sweet potato Nonstick vegetable oil spray
2 3/4 cups all purpose flour
3 teaspoons ground cinnamon
3 teaspoons ground ginger
1 teaspoon baking powder
1 teaspoon baking soda
1/2 teaspoon salt
2 cups sugar
1 cup vegetable oil
4 large eggs
1 teaspoon vanilla extract
Icing
1 cup powdered sugar
3/4 cup (packed) dark brown sugar
1/2 cup whipping cream
1/4 cup (1/2 stick) unsalted butter
1/4 teaspoon vanilla extract
For cake: Pierce sweet potatoes with fork. Microwave on high until very tender, about 8 minutes per side. Cool, peel and mash sweet potatoes.
Position rack in center of oven; preheat to 325°F. Spray 12-cup Bundt pan with nonstick spray, then generously butter pan. Sift flour, cinnamon, ginger, baking powder, baking soda and salt into medium bowl. Measure enough mashed sweet potatoes to equal 2 1/2 cups. Transfer to large bowl. Add sugar and oil to sweet potatoes; using electric mixer, beat until smooth. Add eggs 2 at a time, beating well after each addition. Add flour mixture; beat just until blended. Beat in vanilla. Transfer batter to prepared pan. Bake cake until tester inserted near center comes out clean, about 1 hour 5 minutes. Cool cake in pan on rack 15 minutes. Using small knife, cut around sides of pan and center tube to loosen cake. Turn out onto rack; cool completely.
For icing: Sift powdered sugar into medium bowl. Stir brown sugar, whipping cream and butter in medium saucepan over medium-low heat until butter melts and sugar dissolves. Increase heat to medium-high and bring to boil. Boil 3 minutes, occasionally stirring and swirling pan. Remove from heat and stir in vanilla. Pour brown sugar mixture over powdered sugar. Whisk icing until smooth and lightened in color, about 1 minute. The icing hardens quickly, spoon icing thickly over top of cake, allowing icing to drip down sides of cake. Let stand until icing is firm, at least 1 hour. (Can be prepared 1 day ahead. Cover with cake dome and let stand at room temperature.)