Growing up in Hawaii, there are a bunch of activities I never anticipated my grown-up life would entail:
Taking my own trash to the dump because our town doesn't have trash pickup
Skiing every winter
Making sure all windshield wipers stick up before a snowstorm so they don't freeze to the windshield
Not being able to see as I drive in the dark to the gym because I've sprayed wiper fluid to clear all the snow/grime off the windshield only to form a sheet of ice so I can see even less
Trying to work/write when snowstorms blow through your town on a weekly basis and my kids have snow days
Shoveling snow
Shoveling snow out of our driveway multiple times after the snow plow comes by and snows us in again
Worse, trying to get my kids to shovel our walks, our stairs and our driveway multiple times after the snow plow comes by
If you haven't yet guessed, 9 inches of snow fell onto our town between 6 .m. and noon and I've been enjoying a snow day with the family.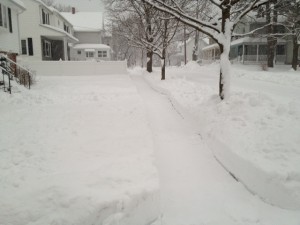 I also did something I never in a million years anticipated—I attempted to snow blow our driveway and sidewalks.
Over the years, the question of a snow blower has been a delicate subject in our marriage. For many years, Scott has threatened to buy one. I didn't think we could afford it. I also argued that shoveling was better for the environment, better for noise pollution, better for our bodies, and better for our kids' character development.
And frankly, although Scott does the vast majority of shoveling when he's home. . . the reality is that he manages to be an essential person at work during the vast majority of snow storms, leaving me and the kids to shovel out. Which means it felt like it was more my decision than his.
Meanwhile, our neighbors have often kindly blown our walks over the years. And if they're in a super charitable mood and I happen to be outside yelling at all 3 kids to shovel, they sometimes even blow out our double wide driveway.
But our 80 year old neighbor was the last straw. Scott said that we should be shoveling Jasper out, not the other way around. So I finally gave in several years ago—Scott could buy a snow blower.
But then there was so much snow that year he couldn't find one.
Then he forgot.
Finally, last spring he purchased a behemoth of a snowblower—the biggest most powerful one he could find.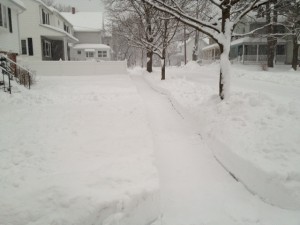 So today, Scott left for work after blowing out the 3 inches of snow had fallen. 6 inches later, when Scott's effort was just a mild indentation in the snow, I gave our behemoth a try.
My 80 year old neighbor was appalled. He told me that I shouldn't be running the snow blower—it was his job. He told me that I was too short for our ginormous snow blower. And then he proceeded to expertly blow out my driveway while I managed to blow more snow over his sidewalk.
It's probably a man and machine thing since Ren, who had shown very lackluster shoveling skills today (and all his life) insisted on snowblowing until I shut off the machine, yelling for the umpteenth time, "This is not a toy!"
So here I sit, having conquered machine and snow day until the next storm blows in.
Not bad for a Hawaii girl.