10 years ago I made a big mistake. For our 10th anniversary renewal of vows, I got a Chinese chi-pao. Scott suggested that since I didn't get one for our low-budget wedding, this would be the time to splurge.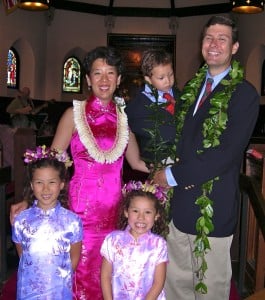 That was all well and fine—my 10th anniversary tailor-sewn chi-pao was and continues to be the most expensive piece of clothing I've ever purchased.
My mistake was doing Weight Watchers for the 10 months beforehand so that the dress was fitted to my body at my lowest weight since our early marriage. In a burst of unrealistic thinking, I thought having the most expensive and beautiful piece of clothing I owned be shaped to my most skinny shape would motivate me to stay that skinny.
Hah!
I actually maintained that weight for an entire year. And then we moved to the suburbs, I had an identity crisis, and promptly gained 5 pounds that have never left since. Those 5 pounds have added friends as well.
In exactly 13 days, I get to be arm candy for my husband at his crowning moment—a banquet for his 35,000 member professional society for which he's the chairman.
His dear hope, expressed months ago, was I would wear my chi-pao.
"You want me to lose 10-15 pounds?" I asked.
"I didn't say that. I said it'd be great if you wore your chi pao. . ."
"Which I can only fit if I lose 10-15 pounds!" It was a no-win conversation for Scott.
And yet. . .
Over the past couple years I'd been reading about intermittent fasting and its many health benefits. It appealed to me because I've got blood sugar issues, cholesterol issues, and potential blood pressure issues. And the 5-2 fast (also known as the Fast Diet) promised that if I only ate 500 calories 2 days a week, I could eat whatever I wanted the other days AND still lose weight, improve my blood markers, etc.
After hearing positive stories from 2 friends, I started the 5-2 diet on October 30th and waited to see where it took me by February 25th.
After intermittently fasting now for almost 3.5 months I can say. . it sort of works. I like:
Fasting: The authors basically say, "You'll be hungry and deprive yourself 2 days a week—deal with it." Embracing hunger and just working through it isn't that bad.
Eating: I eat what feels like normal meals and treats on the other days rather than feeling deprived of yummy food all the time
Losing Weight. . . . for awhile
2 weeks ago I would have said it worked pretty well. I lost between 5-10 pounds.
But then on Super Bowl Sunday the kids convinced me to take them to Shake Shack for lunch after church, then I went to a lavish Super Bowl party. The next morning I'd put on 5 pounds! 5 pounds that stubbornly have stuck despite fasting 3 times since then.
I think my challenges are:
My definition of "normal" isn't others' definition of "normal"
"Eating normally" opened the door to me indulging in chips, fried cheese (brown Cabot extra sharp cheddar shreds in a non-stick pan until they crisp, drain—delicious!), and all sorts of salty snacks—can we say water weight?
Needing only 1200 calories/day to maintain my weight—dieting by any standard—the curse of the middle-aged Asian woman.
As I fretted about that chi-pao and that elusive skinny goal, I felt like God put in my head a miraculous idea—there are tailors, and they can let out seams—3 inches worth it turns out.
I'll keep fasting for the next 2 weeks, but chi-pao, here I come. . .