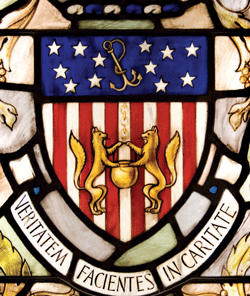 Remember a few days back when I shared Bishop Lori's letter to the editors at America Magazine? He had "gone Columbo" on them. Prior to that, Cardinal Dolan had given them a stern talking to as well. Perhaps that got their attention.
At the time, I also clearly stated that, unlike my friend Blaise Pascal, I don't hold a grudge against Jesuits. I'm not saying they are all the cat's meow, or anything. But I don't go in for labeling folks with broad brushes because of a few bad apples, or for reading opinions that don't mesh with my own, etc. It's been something of a project I've undertaken since I became a Catholic, trying to not make snap judgements. I'm still working on the tendency though. Besides, there is also this: Jesuits are a part of our family.
So without further ado, I'll just say that the editors at America deserve a hearty Bravo Zulu for publishing the following article by Mary Ann Glendon, a professor at Harvard Law School, and the author of a book entitled The Forum and the Tower: How Scholars and Politicians Have Imagined the World, from Plato to Eleanor Roosevelt, back in their March 5th issue. It's called First of Freedoms? Here's a taste,
Until recently the status of religious liberty as one of the most fundamental rights of Americans has seldom been seriously challenged. Despite lively controversy about its precise scope and limits, citizens of all faiths have long taken for granted the unique model of religious freedom that has enabled this nation's diverse religions to flourish and to coexist in relative harmony. Recent legal and political developments, however, suggest that the first freedom in our First Amendment may be en route to becoming a lesser right—one that can be easily overridden by other rights, claims and interests.

This past September, alarm at that prospect prompted the U.S. Catholic bishops to establish a special committee "to help keep bishops alerted to present and ongoing threats to religious liberty at home and abroad and also to help them teach, communicate and mobilize their people in defense of religious liberty."

When the bishops' Ad Hoc Committee on Religious Liberty was launched, its chairman, Bishop William Lori of Bridgeport, Conn., stressed concerns about the increasing erosion of conscience protection for individuals and institutions. At the federal level, the top-rated program through which the U.S.C.C.B.'s Migration and Refugee Services agency helps sexual trafficking victims has recently lost its funding for refusing to provide "the full range of reproductive services" including sterilization, abortion and contraception. The U.S. Agency for International Development has required its providers—such as Catholic Relief Services—to include contraception in their H.I.V. prevention and international relief programs, even if that violates the recipients' moral commitments. And regulations issued by the U.S. Department of Health and Human Services will require most private health insurers to cover sterilization, contraception and drugs that induce abortion.

…Emboldened by recent developments, militant secularists are claiming that religious freedom is an unnecessary right. Some maintain that religious people and groups already have all the protection they need or deserve from antidiscrimination laws and constitutional safeguards for freedom of expression and association. Others, more insidiously, treat religious liberty as part of a generic liberty right rather than a distinctive freedom that merits special exemptions and accommodations.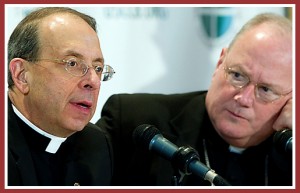 It only get's better from there. Glendon provides a view of Bishop Lori that you may find fascinating. Bishop Lori, see, is the kind of Catholic shepherd that is the Administration's worst nightmare. Because he is awesome like this,
The bishop was speaking from hard-won experience—gained in repulsing an especially brazen assault on religious liberty. In March 2009 the Connecticut state legislature announced hearings on a bill—specifically directed at the Catholic Church—that would have reorganized Catholic parishes by transferring administrative control from the pastor and the bishop to an elected committee of laypersons. Perceiving the bill as a thinly veiled attempt to silence the church on important issues, as well as an unconstitutional interference with internal church affairs, Bishop Lori set about rallying rank-and-file Catholics to the church's defense. Through the diocesan Web site and the Connecticut Catholic Conference, he and Archbishop Henry Mansell of Hartford and Bishop Michael Cote of Norwich urged people to contact their representatives and to attend a rally at the State Capitol on the day the hearings were to take place.

That day, a crowd of 5,000 persons heard the usually mild-mannered Bishop Lori give a fiery speech in which he recalled other instances in American history where Catholics had been singled out for discriminatory treatment. "Even a first-year law student would know that Bill 1098 is unconstitutional," he said. "Let's bury it for good."

These efforts were successful, and the bill was withdrawn. But the assault on the church did not end there. One month later, citing the role of the diocese in galvanizing opposition to the church reorganization bill, Connecticut's Office of State Ethics notified the diocese that it was under investigation for failing to register as a lobbyist.

Bishop Lori again went into action. He issued a statement pointing out that when a church encourages its members to exercise their rights of speech and assembly, it is not engaged in lobbying but in constitutionally protected activity. He drove the point home by filing a federal civil rights action against officials of the Office of State Ethics. At that point, Richard Blumenthal, Connecticut's attorney general, stepped in, calling on the office to drop an investigation that risked chilling constitutionally protected political expression by the church. Shortly thereafter, the office announced it would take no further action against the diocese.

Reflecting on the incident, Bishop Lori said: "It's really astonishing to think that the state government could imagine that it could exercise that much control over the internal affairs of a particular church. That really alerted me and a lot of people to the present dangers against religious liberty."
I told you he was canny like Columbo. Go read the whole wonderful article. I think Cardinal Avery Dulles, SJ and John Courtney Murray, SJ are smiling now. I know I am after reading it. Uplifted, I am. And proud, in a good way.
Thanks Mary, and to the editors of America, thanks again.