The other day I lamented losing an hour to reading Joseph Bottum's personal essay about his ideas on how the Church should handle the Same Sex Marriage situation.
I would trade that experience in a heartbeat in order to get back the 8 minutes I lost in seeing the depths our culture has sunk to as Miley Cyrus performed at Sunday night's MTV Video Music Awards.
It reminded me of the wisdom of blocking MTV, VH-1, etc., with parental controls on our television.
No matter. My kids are bound to see this performance, as everyone and their mother is sharing it on Facebook. I mean, when it makes the cut at USA Today, there is no putting the genie back in the bottle.
I won't share a clip of Miley's performance (vocabulary word of the day: twerk). Instead, I'll share some of the reactions from other performers in the crowd.
Like that of the ever unflappable Beyoncé Knowles,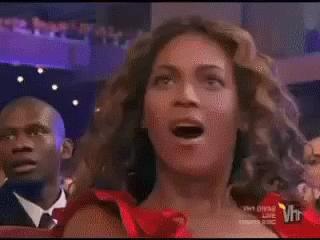 See more reactions over at Mashable. The big takeaway for me is how utterly bored most folks seemed to be with what was happening. Many in the audience appear to be extras from The Walking Dead.
Sam Rocha, a musician in his own right, has much the same response in a post he writes about the challenges and opportunities in Youth Ministry today,
Miley Cyrus and Robin Thicke's performance on MTV last night is a representative example. It was not obscene or sexual in any way that merits erotic attention. It was anything but that. No, what happened on that stage was a cheap, unskilled, and depraved insult to all truly vulgar and sexual performances. Sterile, lifeless, and void.
Perhaps then the fight to restore a culture that celebrates truth, goodness, and beauty, shouldn't get put on hold after all. A man far wiser than me has a better idea,
"If anyone wishes to write against this, I will welcome it. For true and false will in no better way be revealed and uncovered than in resistance to a contradiction, according to the saying: 'Iron is sharpened by iron.' (Prov. 27: I 7).

And between us and them may God judge, Who is blessed in eternity. Amen."

– Thomas Aquinas, On the Perfection of the Spiritual Life
Resistance is not futile. And thanks to Joseph Bottum, our recognition of disenchantment in the culture, and what to do about it, can continue to be discussed seriously.
As we ponder all this in our hearts, here's an idea. Ask St. Thomas and Our Lady of Częstochowa to pray for us all.
UPDATE:
My blog neighbors have thoughts too.
Max Lindenman on Miley Cyrus and the Wisdom of Repugnance.
Elizabeth Husted Duffy considers The Relationship Between Pornography and Pedophilia.
And don't miss Deacon Greg Kandra's letter, Dear Miley…