The Good, The Bad and The Ugly is AVAILABLE ON NETFLIX INSTANT.
Yes, today's Valentine's Day. No, this isn't a good Valentine's Day film, though I did spent a couple of minutes or hours trying to figure out how to sell it that way.
…so this can be for tomorrow, then.
While the Civil War rages between the Union and the Confederacy, a quiet loner, a ruthless hit man and a Mexican bandit comb the American Southwest in search of a strongbox containing $200,000 in stolen gold.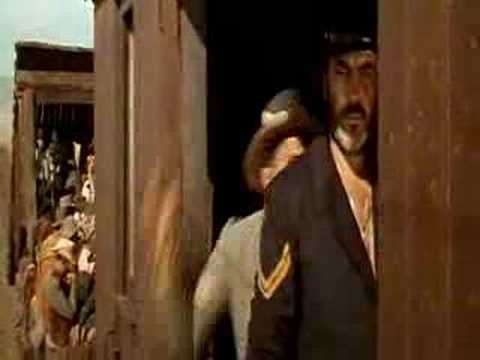 The crowning glory in that loose trilogy of films Sergio Leone built around Clint Eastwood's mysterious "Man with No Name," this is the definitive Spaghetti Western and an absolute must-see for anyone aspiring to the term cinophile. It is also a must-see for anyone who just genuinely loves watching moves, since I realize others may not be as attached to obscure and self-promoting labels as I.
TGTBaTU is one of those films that has exhausted cinematic superlatives since long before I came along. It is also — and this is quite a bit rarer — a film that deserves each and every one of those exhausted superlatives. The legendary music, the fantastic editing, the indelible opening titles, the oft-copied-yet-never-matched use of extreme close-ups to heighten the tension, the final glorious stand-off (SPOILERS), the pitch-perfect ending (SPOILERS!) – I could go on and on. It's violent, nihilistic, revisionist, erratically paced, bizarrely dubbed, and almost everything else I tend not to like. …in fact, I'm not always even sure why I love it so.
It's great.
But wait; there's more. A Fistful of Dollars, the first in the trilogy, is also AVAILABLE ON NETFLIX. Yojimbo, the Kurosawa film upon which Fistful is based, is AVAILABLE ON HULUPLUS. And Sanjuro, Kurosawa's follow-up to Yojimbo, is AVAILABLE ON HULUPLUS, as well. (Strangely, For A Few Dollars More, the middle work in the "Man With No Name" trilogy, is not available as part of any subscription package I've seen. It is, however, available for rent from any number of online venues.)
There. That ought to keep you busy.