Working my way through the glut of post-vacation pieces in my feed-reader — over 7K at last count — I stumbled across this eye-opener from last month's A.V. Club:
…a fellow who goes by the handle Blubbler set the record this week for fastest Super Mario Bros. completion time. As reported by Kotaku, Blubbler's time of 4:57.69 is the best ever by an unassisted speedrunner—rather than a player using software tools to edit together a "perfect" run. This marks the first time that any player has gone below the 4:58 mark in public, and given that the tool-assisted record stands at 4:57.31, Blubbler's performance is almost flawless.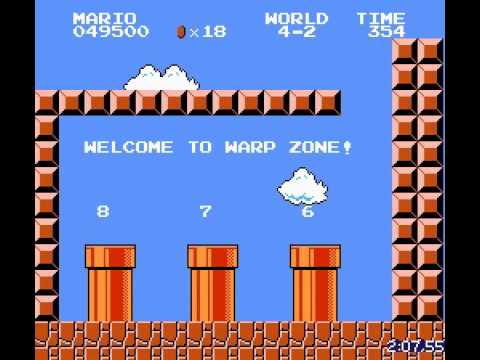 "…Blubbler's performance is almost flawless."
I'll say. As I watched in slack-jawed amazement, I was forced to admit to myself that these are my people. Truly.
…yes, that scares me. But I cannot deny it. (And yes, my boys play the Wii version of Super Marios all the time. Why do you ask/What are you insinuating?)
In my defense, I had no idea this was such a thing. "Tool-assisted records" vs. "unassisted records" categories, and whatnot?
Wow. I love it.