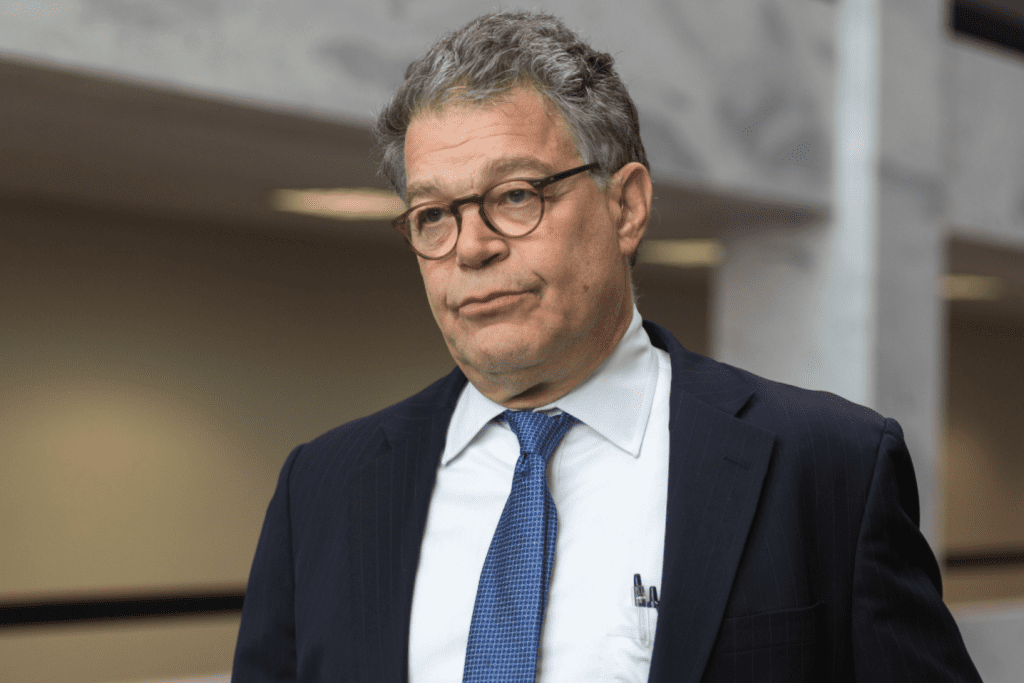 A huge bombshell dropped today when Leeann Tweeden — fitness model and host of Los Angeles morning radio show "McIntyre in the Morning" on KABC — accused liberal Senator Al Franken of groping her and forcing her to kiss him…. And she's got photographic evidence:
In December of 2006, I embarked on my ninth USO Tour to entertain our troops, my eighth to the Middle East since the 9/11 attacks. My father served in Vietnam and my then-boyfriend (and now husband, Chris) is a pilot in the Air Force, so bringing a 'little piece of home' to servicemembers stationed far away from their families was both my passion and my privilege.

Also on the trip were country music artists Darryl Worley, Mark Wills, Keni Thomas, and some cheerleaders from the Dallas Cowboys. The headliner was comedian and now-senator, Al Franken.

Franken had written some skits for the show and brought props and costumes to go along with them. Like many USO shows before and since, the skits were full of sexual innuendo geared toward a young, male audience.

As a TV host and sports broadcaster, as well as a model familiar to the audience from the covers of FHM, Maxim and Playboy, I was only expecting to emcee and introduce the acts, but Franken said he had written a part for me that he thought would be funny, and I agreed to play along.

When I saw the script, Franken had written a moment when his character comes at me for a 'kiss'. I suspected what he was after, but I figured I could turn my head at the last minute, or put my hand over his mouth, to get more laughs from the crowd.
Whoa. She goes on to describe that Franken did not expect this kiss to be a stage gag. Instead, he insisted they practice the kiss — and when she finally relented, here's what happened:
We did the line leading up to the kiss and then he came at me, put his hand on the back of my head, mashed his lips against mine and aggressively stuck his tongue in my mouth.

I immediately pushed him away with both of my hands against his chest and told him if he ever did that to me again I wouldn't be so nice about it the next time.

I walked away. All I could think about was getting to a bathroom as fast as possible to rinse the taste of him out of my mouth.

I felt disgusted and violated.
The Democrats have been in moral outrage over Republican sins against women, and rightly so. Even recently, people are beginning to question why Bill Clinton got a pass against his many credible accusers. But Democrats, here ya go — one of your esteemed liberals doing the unthinkable.
Also, Franken posed for this photo while she slept. Tweeden was told about it afterward and was outraged. However, she feared what would happen if she complained. "You knew exactly what you were doing. You forcibly kissed me without my consent, grabbed my breasts while I was sleeping and had someone take a photo of you doing it, knowing I would see it later, and be ashamed."
Here's the photo:
Everyone who wrote "Wow, Bill Clinton should have resigned" essays are working on their "Step Down, Al Franken" essays right now, right? https://t.co/zdXPB2r7T0 pic.twitter.com/Z5snbL1rov

— Sonny Bunch (@SonnyBunch) November 16, 2017
And this:
No, this was not a skit. She asleep when this happened. Another incident happened during a skit.

I don't care who you are, what party you are a part of, this is wrong.

What Al Franken did here was wrong. https://t.co/unLdDFblDG

— Shaun King (@ShaunKing) November 16, 2017
What will you do now, Democrats?
Image Credit: Wikimedia
Hat Tip: KABC