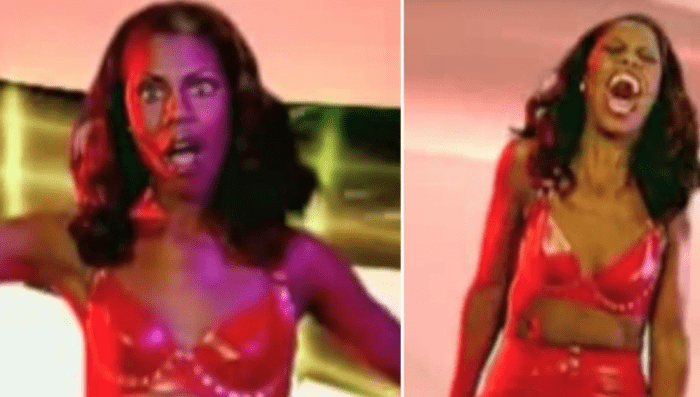 Many people first became familiar with Omarosa Manigault Newman when she was starring on The Apprentice, a reality television show over which Donald Trump presided like Judge Wapner in The People's Court.
Since then, Omarosa was hired by President Trump and then ceremoniously fired by Chief of Staff John Kelly at a Christmas party. According to the New York Times, she may have been forcibly removed from the building.
Perhaps it is fitting that, as she exits the White House after a year on the job, this baffling video has surfaced starring Omarosa.   Page Six has the details:
A pop-culture polymath sent Page Six a link to "Soul Sistahs," an ultra-camp, hyper-kitsch, uber-low-budget 10-minute sci-fi short film.

While the plot is virtually incomprehensible, as far as we can tell it focuses on an intergalactic yenta in a housecoat who kidnaps Omarosa in an attempt to steal Donald Trump's hair as part of a difficult-to-understand get-rich-quick scheme.

The mini-flick was made back in 2006 — two years after Omarosa shot to fame on Trump's NBC show "The Apprentice."

In this vaguely "Barbarella"-inspired work, the aging villain drugs Omarosa by feeding her spiked cake, whereupon the red PVC-clad former director of communications for the Office of Public Liaison goes off on a motorcycle to steal the future president's hair in a showdown on top of a CGI-created Trump Tower.

The film, which has been viewed a mere 6,000 times — as our source put it: "It's a cult classic. I'm the cult" — was made by former In Touch Weekly photo director Michael Todd, tabloid veteran Matt Coppa and his brother Andrew Coppa.
Page Six notes that people have made colorful comments about the video, including Matt who said "I can't believe she agreed to do it but glad she did!" Another viewer said, "porn has better lines."
Whatever you think of Omarosa, this video is must-see.
Image Credit: Screen cap
Hat Tip: Page Six