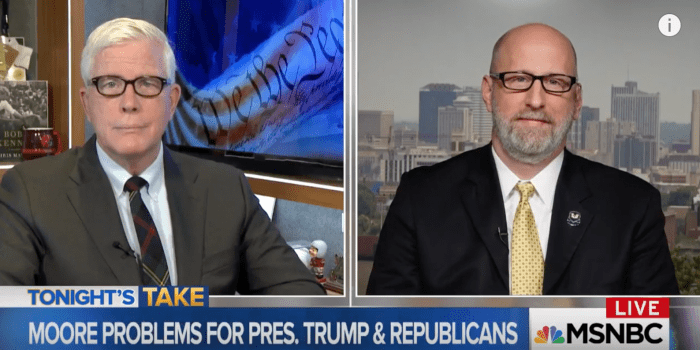 MSNBC political analyst Hugh Hewitt and National Review's David French went on television today to discuss the future of the Republican party if Roy Moore wins his Senate seat in Alabama tomorrow.
"I think it's devastating for the GOP honestly.  The best way to guarantee you're going to get more Roy Moores running for office, more cranks running for office is to vote for Roy Moore.  This guy's going to be a walking campaign for the Democrats.  He's going to make Todd Akin look like a scholar and a gentleman.  Think about this.  Think about how much he is disrespecting GOP voters. He's not even out on the campaign trail. He's asking the people of Alabama to light their reputations on fire to vote for him for Senate when he's not even exhibiting the most basic effort that a normal, semi-competent candidate does to get in front of voters and ask for their vote. I mean, that's disrespectful, but so is this man.  He's a disrespectful, Constitutionally ignorant, credibly-almost-certainly a child molester.  He doesn't belong in the Senate."
Hugh Hewitt said confidently that he believes that Roy Moore will not win in Alabama, citing prominent Republicans who have already announced their intention not to vote for Moore.    He also pointed out that there is a "sign discrepancy" in Alabama yards, as cited by reporters who traveled down there to make predictions.
Hewitt also quoted GOP Strategist Steve Schmidt, as saying, "There' isn't enough money to save Alabama's brand if they elect Roy Moore."  He also cited a new Fox News poll that says Moore is down in the polls by ten point to Democrat Doug Jones.
"Well, for one thing, the Senate has an opportunity and a Constitutional obligation to decide it it will seat Roy Moore. There is a Constitutional provision which is essentially a fail-safe against the people electing a politician who is not fit to be seated in the Senate. So that's job one of the Senate: to take care of its own. As far as the Donald Trump allegations, I have absolutely no objection to a Congressional investigation of these accusations.  I mean, they're very serious.  There are multiple accusations.  If the roles were reversed — and this were a Democratic President facing similar accusations — I firmly believe the Republicans would want to investigate. However, I think it's an exercise in futility calling for it.  Just as it's a complete exercise of futility asking the President to resign. At this point, the focus has got to be: if Roy Moore wins, the Senate must take care to preserve the world's greatest deliberative body and not seating him."
Watch this and much more conversation below:
Image credit: Screen cap