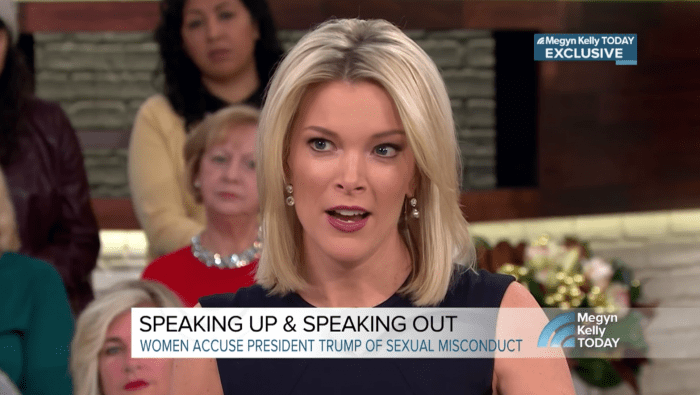 Jessica Leeds, Samantha Holvey and Rachel Crooks have accused President Donald Trump of sexual misconduct, which voters presumably discounted as they voted for him in November of 2016.
However, with the new cultural shift towards sexual accountability, these accusers are asking why their stories were discounted.
Recently, they joined Megyn Kelly on TODAY live.
Holvey, a former Miss USA pageant contestant, says Trump came backstage at the pageant to "inspect" the contestants when they were only wearing robes without clothes on beneath the robes.  (Turns out, Trump even described this type of behavior to Howard Stern, which Kelly plays for the audience.)  "I just felt so gross," she said.
Watch her interview below:
Here's another portion of the interview:
Crooks tells her story below, about seeing Trump get off an elevator and kiss her on the mouth.  (He was married to Melania at the time.)  "I was devastated," she said.  Also, she provided Megyn with emails she sent to her sister after the event happened.
Other women have similar stories about Trump kissing them on the mouth without permission.  Of course, Trump bragged about this to Billy Bush on the Access Hollywood bus as well.
Crooks says that there was probably security footage of that day and invites Trump Towers to release it.  Fat chance of that happening, of course.
This is the next segment:

Watch Leeds speak about the issue below:
Image Credit: Screen Cap