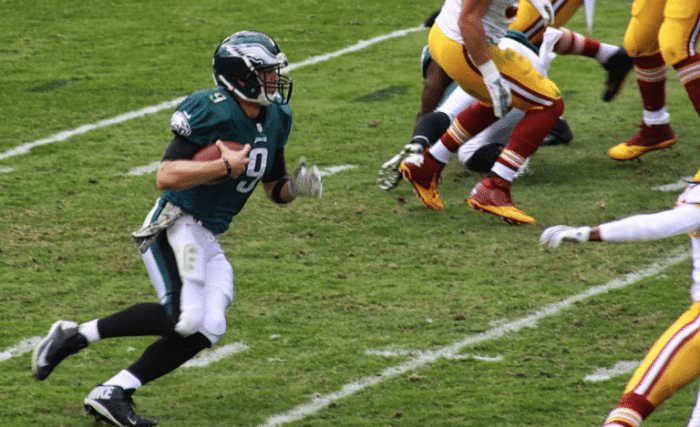 This is the best. Many know that Philadelphia Eagles quarterback Nick Foles is very public about his faith. National Review reports that faith is a big element of their team:
On Sunday night, the Super Bowl ended and — for about 20 minutes — a late-night church service began. From coaches to players, the Philadelphia Eagles thanked Jesus, professed their love for Jesus, and expressed how Christ had provided strength through adversity. In other words (and ironically, given their fans' rather cruel public image), it was a normal Eagles kind of day. The sports world is more publicly religious than the rest of pop culture. Football is more publicly religious than the rest of sports, and the Philadelphia Eagles are more publicly religious than most football teams.
And Bob Smietana at the Washington Post reports:
The team produced a video — separate from the one being shown on Super Bowl Sunday — highlighting faith as a binding force in the team locker room. Eagles players even held baptisms in the team's cold tub and at a hotel pool. About 30,000 people have viewed a Bible study that features the Eagles and other NFL players. Frank Reich, the offensive coordinator for the Eagles, spent time in the ministry after his NFL career was over — serving as a pastor and seminary professor before becoming a coach.
That's why I loved this so much. Even though Foles just won a Superbowl ring, he used this moment to encourage those of us who… well, didn't. Those of us who may be experiencing a less positive life, a less "successful" life. This is what he said.
"I think the big thing [to tell people] is 'don't be afraid to fail'. I think in our society today, you know, Instagram, Twitter, it's a highlight reel. It's all the good things. Then when you look at it, then you think like, 'wow', when you had a rough day or your life's not as good as that, you're failing.
"And failure's a part of life, that's a part of building character, and growing. Without failure, who would you be? I wouldn't be up here if I hadn't fallen a thousand times, made mistakes. We all are human, we have weaknesses, and throughout this being able to share that and be transparent.
"I know that when I listen to people speak, and they share their weaknesses, I'm listening because I can resonate. So, I'm not perfect, I'm not Superman. I might be in the NFL, and we might have just won the Super Bowl, but I still have daily struggles … And that's really just been the message, simple. If something's going on in your life and you're struggling, embrace it, because you're growing."
What an inspiration he is to millions.
I printed this Nick Foles quote because it is just so excellent: pic.twitter.com/3Tmu9PCwOM

— Sam Farmer (@LATimesfarmer) February 6, 2018
Image Credit: Wikimedia
Hat Tip: Twitter