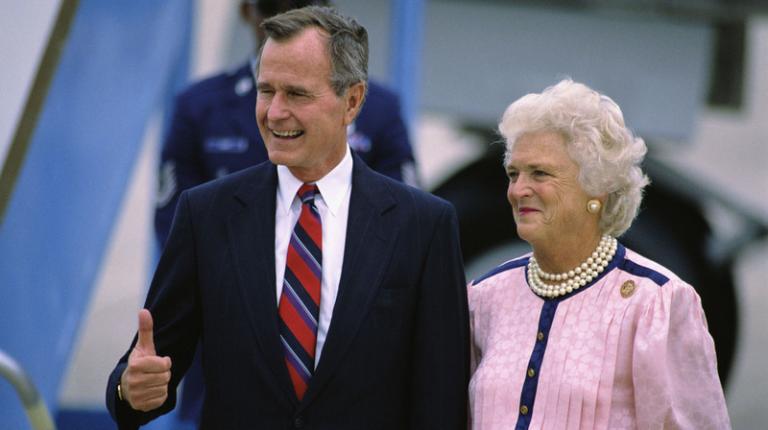 Tuesday, America mourned the loss of former First Lady Barbara Bush, the wife of former President George H. W. Bush.  Her husband, according to a spokesperson, is "broken-hearted," but strong. Jean Becker, chief of staff at the Office of George H. W. Bush, updated the nation on the emotional state of the 41st President of the United States.
Jean Becker, chief of staff at the Office of George H. W. Bush, gave this update on the 41st President of the United States. pic.twitter.com/pjOKi3szVc

— Jim McGrath (@jgm41) April 18, 2018
Her statement read:
So, many of you are asking, "how is 41?"

He is, of course, broken-hearted to lose his beloved Barbara, his wife of 73 years.  He held her hand all day today and was at her side when she left this good earth.   Obviously, this is a very challenging time.   But it will not surprise all of you who know and love him, that he is also being stoic and strong… and is being lifted up by his large and supportive family.

He is determined to be there for them as well.  He appreciates all the well wishes and support.
Of course, we knew that he would handle this with dignity. The New York Times obituary of Bush begins:
On Sunday, the office of her husband, former President George Bush, issued a statement saying that after consulting her family and her doctors, Mrs. Bush had "decided not to seek additional medical treatment and will instead focus on comfort care."

The Bushes had celebrated their 73rd wedding anniversary in January, making them the longest-married couple in presidential history.

Mrs. Bush had been hospitalized with pneumonia in December 2013. She underwent surgery for a perforated ulcer in 2008 and had heart surgery four months later.

As the wife of the 41st president and the mother of the 43rd, George W. Bush, Mrs. Bush was only the second woman in American history to have a son of hers follow his father to the White House. (Abigail Adams, wife of John Adams and mother of John Quincy Adams, was the first.)
Read it all here.
Image Credit: Esther on Flickr
Hat Tip: Independent Journal Review