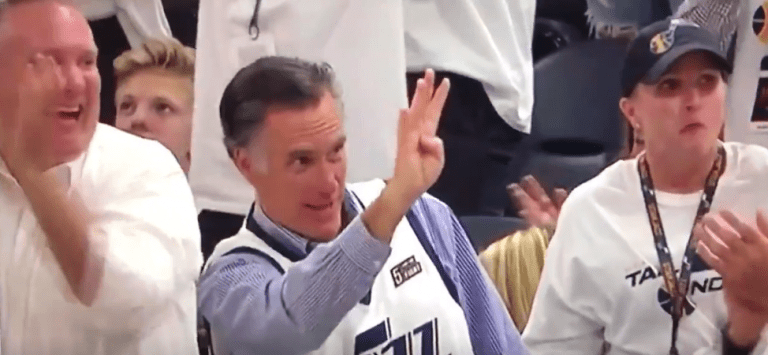 Former Massachusetts Governor (and former Republican nominee for President) Mitt Romney was recently at a Utah Jazz game, when his team was playing the Oklahoma City Thunder.  The seventy-one year old businessman is running for Senate in Utah, after Orrin Hatch announced his retirement.  When he went to see the game, he sat behind the scorer's table and was wearing a customized jersey with his name on the back:
Of course pic.twitter.com/m5PC7YEpeI

— Anthony F. Irwin (@AnthonyIrwinLA) April 24, 2018
His "basketball-jersey-over-button-down-dress-shirt look" caused some amusement amongst people on Twitter.  But things got crazy when Romney started taunting Russell Westbrook during Jazz's Game 4 win.  When Westbrook got his fourth foul, the crowd went wild — and Romney decided to hold up four fingers to make sure the NBA star knew how close he was to fouling out.
This game has everything, including Mitt Romney taunting Westbrook lol pic.twitter.com/dGmu2v9RFy

— Rob Perez (@World_Wide_Wob) April 24, 2018
Fox News has more:
Westbrook may have bigger things to worry about than taunting from Romney. With the loss, the Thunder are down three games to one in the first-round series against the Jazz and will be eliminated with another loss.

The Jazz have enjoyed recent success following their 2016-2017 season where they won their first playoff series. However, their hopes of making a run were quickly dashed when they lost to the eventual NBA-champion Golden State Warriors.

Before that, the Jazz has not had a playoff appearance since 2011.
Of course, it wouldn't be a story about Romney if somewhere in it, accusations of flip-floppery didn't emerge.  And sure enough, people pointed out that while he was governor of Massachusetts, he was seen at a Celtics game. 
Scandal
!
Massachusetts Governor Mitt Romney vs Utah Senate candidate Mitt Romney pic.twitter.com/4liTzrmAj8

— Josh Billinson (@jbillinson) April 24, 2018
But over at Vox, Dylan Scott defended Romney:
But I came here not to bury Mitt Romney but to praise him. He was president and CEO of the 2002 Winter Olympics in Salt Lake City. He was aware in 2012 that the New England Patriots and Boston Red Sox had won Super Bowls and a World Series while he was the governor of Massachusetts. He knows that 7-foot-tall human beings should probably be playing basketball. His wife, Ann, is a noted equestrian.

Sure, he might, as Mother Jones's Tim Murphy delightfully chronicled, have the odd habit of talking about "sport" instead of "sports" like the rest of us. But that's just part of his charm. There is plenty of proof that Mitt Romney genuinely enjoys sports — he even reportedly had an interest in buying a stake in the New York Yankees.

Romney deeply reveres capitalism and competition. It makes perfect sense that he would also enjoy athletic contests.
Hat Tip: Vox