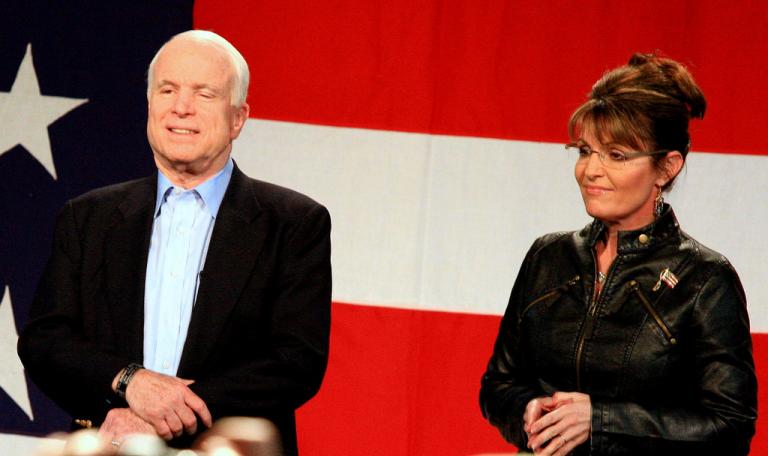 John McCain, who is struggling with cancer, is setting the record straight. In a new book and documentary, he's confessing a few of what he thinks were bad decisions… including the fact that he selected relatively unknown (at the time) governor Sarah Palin as his running mate in 2008. The New York Times reports:
While he continues to defend Ms. Palin's performance, Mr. McCain uses the documentary and the book to unburden himself about not selecting Mr. Lieberman, a Democrat-turned-independent, as his running mate.

He recalls that his advisers warned him that picking a vice-presidential candidate who caucused with Democrats and supported abortion rights would divide Republicans and doom his chances.

"It was sound advice that I could reason for myself," he writes. "But my gut told me to ignore it and I wish I had."

Even more striking is how Mr. McCain expresses his sorrow in the documentary. He calls the decision not to pick Mr. Lieberman "another mistake that I made" in his political career, a self-indictment that includes his involvement in the Keating Five savings and loan scandal and his reluctance to speak out during his 2000 presidential bid about the Confederate battle flag flying above the South Carolina Capitol.

Mr. Lieberman said he didn't know Mr. McCain felt that regret until he watched the film. "It touched me greatly," he said.
Throughout his life, McCain has been a "maverick" who doesn't ever quite do what others expect. His Palin decision at the time was controversial and — at least temporarily — exciting for the GOP. Sarah Palin's electrifying speech at the GOP Convention was soon marred by a media bent on destroying her.
Would John McCain have won, with a different running mate? No. But the fact that he's now saying he wished he'd selected a Democrat is still a pretty maverick thing.
Image Credit: PRO Bill Morrow on Flickr