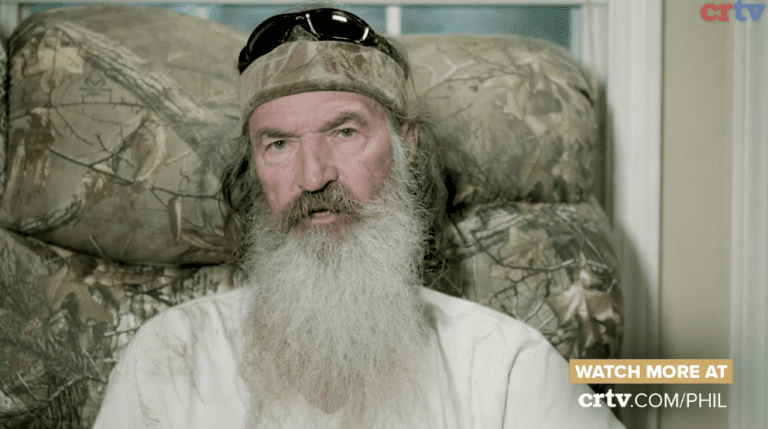 "Duck Dynasty" star Willie Robertson spoke at the Republican National Convention in support of Donald Trump. In real life, the rest of his family wasn't so sure.
"We had lots of discussions behind the scenes," Korie Robertson said. Apparently, she wasn't as keen on Trump as her husband. But it seems like ole Phil really likes the President. You can tell by the below Facebook post in which he compared Trump to Jesus Christ, the savior of the world. Yes, really.
Phil had previously shared the gospel with the President. He said, "(I discussed) God becoming flesh … dying for the sins of the world, and, in his case, I said, 'Dying for your sins, Donald, all of them, I figure there's a lot — what do you think?'" Robertson said. "He didn't disagree with me."
The "Duck Dynasty" star said he felt Trump was receptive to the gospel message.
"I wrote it in symbols, an arrow coming down out of heaven … God becoming flesh, a cross, where Jesus took away the sins of the world," he explained.
"He was just looking at the symbols — a tomb where they put (Jesus) and three days later an arrow coming out of the tomb, and him going to sit down at the father's right hand."
At the end of the meeting, Trump asked if he could take the notes with him. Phil agreed.
"I shared that with him, and here's my point — at least he listened."
And now, Phil is comparing the President to Jesus, saying he could get a lot more done if people would quit criticizing him.
Watch his Facebook post below:
Image Credit: Screen Cap
Hat Tip: Deseret News