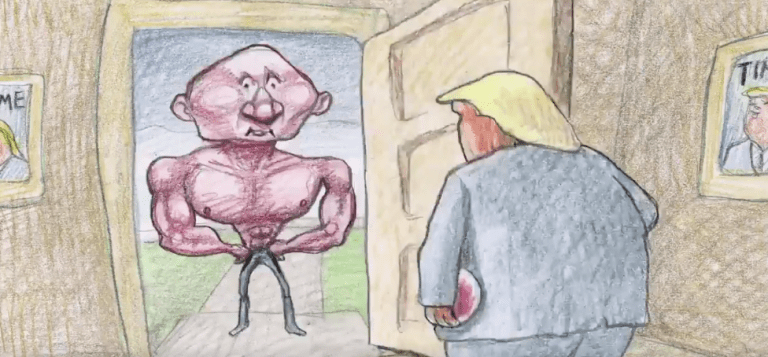 Well, 2018 never fails to disappoint.
Now, the New York Times — the liberal darlings that they are — feel completely fine creating and promoting what critics are calling a "homophobic" cartoon featuring President Donald Trump and Vladimir Putin. In June, the posted this cartoon called, "Trump and Putin: A Love Story," showing the two presidents as lovers.
Yes, really. Oscar-nominated filmmaker Bill Plympton provided the animation, but used real audio from the actual leaders. It begins, "I know words. I have the best words."
When the New York Times posted the cartoon on Twitter, people were understandably offended. And not the people you might think — liberals were upset because they felt the cartoon was homophobic. Independence Journal Review has the story:
Some LGBTQ advocates and leaders have denounced the cartoon, calling it "homophobic" and offensive to the community.

Pennsylvania state Rep. Brian Sims, who is gay, called out the publication for comparing a romantic relationship to the one Trump shares with the Russian president:
He wrote, "@nytimes this isn't just intensely stupid, it's homophobic as all hell. What on Earth makes you think that equating the love that countless people across the planet fight and die for to the unconscionably criminal relationship between these two is OK?! Truly, please explain."
Conde Nast's executive Phillip Picardi also chimed in. "This is homophobic. It is implying that being gay is an insult for both of these men," he wrote. "It implies that being gay would emasculate them. It implies that calling them gay together would anger them and incite reaction. This is beneath us."
Of course, the New York Times supposedly liberal values go out the window if they have the chance to insult their President.
Watch the cartoon below:
In this episode of Trump Bites, Donald Trump's not-so-secret admiration for Vladimir Putin plays out in a teenager's bedroom, where the fantasies of this forbidden romance come to life. https://t.co/h5gpVJzj69 pic.twitter.com/f4aBEOfRYt

— NYT Opinion (@nytopinion) July 16, 2018
Hat Tip: Independence Journal Review
Image Credit: Screen Cap