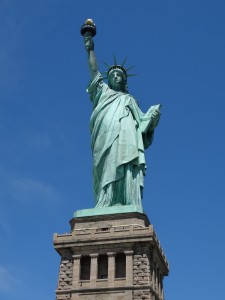 (AoftheANews) AoftheANews has learned that Pope Francis, in advance of his upcoming US visit, and as a way to commemorate the Year of Mercy, has told Cardinal Dolan the Statue of Liberty ought to be renamed the "Statue of Mercy". Anonymous sources have added that the Holy Father intends to make the same request to the US Congress when he addresses them in September.
"This shouldn't come as a shock to anybody," one source told AoftheANews. "Pope Francis thinks it would be a fitting tribute to the theme of mercy. And if you ask me, Americans need to be more concerned with mercy than liberty anyway."
Calls to the New York archdiocesan offices have not been returned, as Cardinal Dolan is currently in St Louis at the USCCB Spring Meeting. However, there is an unconfirmed report that he has approached Archbishop Chaput with the suggestion of renaming Philadelphia's iconic Liberty Bell as 'The Mercy Bell'.
Photo credit: airlines470 / Foter / CC BY-SA