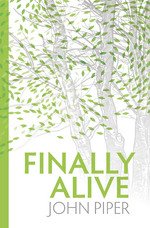 "Have I been born again?" is not a question to be answered hastily. In John Piper's new book, Finally Alive, expect to be challenged. Piper strips away our complacency, arguing that many people falsely believe they are Christians. He begins by arguing that many who claim to be "born again" today are actually not, and that statistics demonstrating that so-called born again Christians are morally indistinguishable from unbelievers only demonstrate that many who think they have been regenerated actually are still on their way to hell.
Have you carefully examined yourself lately to see if YOU are truly saved? Being wrong about this issue will have eternal consequences and Jesus warned us that there will be those in that day who will have thought they were his followers but actually were not:
Matthew 7:21-23
"Not everyone who says to me, 'Lord, Lord,' will enter the kingdom of heaven, but the one who does the will of my Father who is in heaven. On that day many will say to me, 'Lord, Lord, did we not prophesy in your name, and cast out demons in your name, and do many mighty works in your name?' And then will I declare to them, 'I never knew you; depart from me, you workers of lawlessness.'"
By examining the Bible's teaching on the new birth, John Piper shows us how to be certain our faith is genuine. Because no issue could be more critical, I believe this is the most important book Piper has written. It could be the most important book outside of the Bible that you or your loved one will ever read. I was privileged to have the opportunity to read this prior to launch and it moved me profoundly, challenging me once more to be sure of my own salvation and to appreciate more fully what God has done for me.
This book is being published first in the UK. However, it is now possible to pre-order it, and I understand it can also be delivered to the USA and other countries. It's worth the cost of international postage. If you move quickly (i.e. before December 4th), your order will be free of delivery charges in the UK.
A single copy is now available on pre-order for just £8.99 (which is approximately $14), dropping to £7.64 each if you buy a box of twenty. Buy several copies! Delivery, however, is not possible before Christmas.