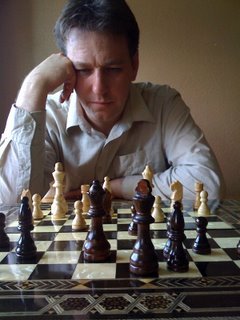 Well, my friend and chess opponent has been posting photos on facebook of me looking distressed or hyper-concentrated whilst we were playing chess this afternoon. So, I couldn't help myself but sharing the final score of our epic battle: Four games to me, three to him!
The chess bug has returned. Any of you my readers think you could beat me online? Right now I feel invincible! I am not that good really, just a reasonable amateur. Never played in a chess club or league or anything like that.
The thing about chess is you need a reasonably equally matched person to play against. If they are too good you just get whipped and there is no fun in that. If they are too bad to put up a fight, OK so the first game is fun as you are the one dishing out the punishment. But it gets pretty boring pretty quick. Today my friend Ant and I had to concentrate for every move! I haven't relaxed as much in ages.