As soon as Andrée and I got married, in the summer of 1995, we moved church, and later home, to be a part of what was then a tiny church plant in Enfield, North London. I had met the founding pastor, Colin Potter at a Newfrontiers conference, and as we planned to live in North London, felt that joining his new church was the best thing for us as a newly married couple.. The early days of the church plant were exciting, challenging, but at times it felt like it was slow moving.
For a season we were involved in two plants at once as we were actually living in London's East End. Three different churches were co-operating in an plan to start a church there. As a result, for a few months we stopped going to what was then called Kings Church, Enfield and attended instead Kings Church Ilford, these two churches have recently merged to form Jubilee's third multi-site venue. It's been nice to reconnect with some old friends from that brief period all those years ago.
After a while, Andree and I spoke about the possibility of switching back to Jubilee London. I was hesitant, as I wanted to see the work we were doing with the church plant through, although various factors seemed to suggest that perhaps we were not in the right place at the time.
One night I had a dream about being in a car that was accelerating towards a barrier and a certain accident. As I woke, I heard a clear voice speak to me in my head which said, "Adrian sometimes it's the right time to stop or change direction." I knew then that I definitely had to go back to the church that would become Jubilee.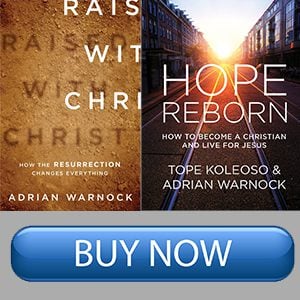 We rejoined the church that in many ways our hearts had never left just as our numbers doubled due to our first church merger. We were still small, however. It is fascinating to think now, that our leadership team was being prepared even then for the mergers that would follow years later.
The first 10 years of the life of Jubilee Church were very much a time of preparation. We were less than a hundred adults, but there was a good foundation in the church, and an informal leadership team had emerged serving alongside the elders.
Tope Koleoso was active in leadership from very early on. But in the early years he resisted Colin's encouragement to become an elder/pastor (we use the terms interchangeably). He said, "I will help you in any way, I will even preach, just don't make me an elder."
Shortly after Tope had finally agreed to become an elder, Colin announced he would be leaving the church to plant another. This left five of us on the leadership team, two elders, and three of us who helped and supported them.
All four of us over a couple of weeks met individually with Tope and said something like, "I really believe that this large church we have felt that God is going to build here will actually happen. I also believe that God wants me to stay here long-term and serve under your leadership in whatever way to help with what God is calling you to do. I'm not going anywhere."
You can imagine how encouraging such a conversation must have been to Tope, as he was taking on the church leadership. It was surprising as in those days church planting was very much seen as an inevitable next step for people who emerged as leaders in one of our Newfrontiers Churches. None of us who served on that leadership team felt any interest or calling to do that, believing instead God wanted us to continue to support and build a large city church. What is so encouraging as I look back, is that right now, another ten years later, Jubilee Church is now led by a core team of six of us, which still includes those original five, and the sixth, who joined us just a year later. We have not lost a single member of our core leadership team in all these years.
I thank God for the band of brothers that have served faithfully now together for so long. They are my friends, as well as my co-workers and partners in the gospel. Four of the six are elders, and me and one other serve alongside the elders and support them in various ways.
In 2005 Jubilee Church moved into Enfield Cineworld and began to grow as God pressed the fast forward button. Like so many of the major moves that I have been involved with, that one was prompted by the prophetic, but as this series is about my story rather than Jubilee's I will leave that story to another day. In all these years, Jubilee Church has been a constant in my life, and such a blessing in so many ways. I'm especially grateful that my five children have been part of this church all their lives. It has been a great spiritual home to my whole family.
---

Read the Rest of Adrian's Life Story

A good introduction to Adrian's life story pre diagnosis can be found in a TV interview which aired on TBN and in a multi-part series entitled "This is My Story"