This serialization of my story, my testimony if you will, has become rather long! But I haven't really mentioned the blog so far. I thought in this post I would mention how the blog began and a few general points about it, and what it has led to for me. This post will not detail the highlights of the blog, as I have looked at that in my recent "most popular posts" article and my blog highlights series.
People sometimes ask how I came to write a blog. I wish there was some kind of flash of inspiration, some foresight that the Internet was clearly not just for geeks. But there wasn't. Back in 2003, relatively few people were online. Fewer still would actually write their own website or blog posts. I had a personal website for a few years before then where I had posted a couple of articles, and my sermon notes. Then one day, I was just a little bored. It was really as simple as that. I thought to myself that a blog might be a good way for me to store a few quotes and snippets of thoughts, and perhaps some things I was writing to prepare for sermons. I also thought that it might be something that my children might be interested in years later. But it really as simple as that, and with this post my blog began.
I was genuinely surprised when my blog began to become fairly popular. I met new friends online, some of whom I would go on to meet in the flesh. I learnt a lot, especially from early debates and discussions, where the brevity of the content forced clarity of thought. Reading what people actually believe rather than what someone else says they believe is powerful. My own thoughts were shaped so much in those early years of blogging, especially in how I should explain my ideas to others.
I was quite busy in those days. I would preach more regularly than I do now. I was writing blogs. I was working hard in my secular job. I was also quite involved in other practical aspects of helping to lead a growing church.
I developed a routine over a few years where I would usually shut the blog down for my summer holidays, and again for the Christmas period, and sometimes January too. This was to bring a sense of disconnection, and refreshment.
One year I was much more weary than I had been in previous years. My downtime didn't lift me up like it usually did. I was tired. I was not in that good a spiritual place.
One day that Spring I got a phone call from Tope Koleoso, my pastor, asking me if I would preach on Easter Sunday. I was less than enthusiastic and said I would "pray about it," which was Christianeze in this case for "That means I'd have to preach the gospel again. How boring." Yes, I am ashamed to admit it, but that was what went through my mind. I prayed a half-hearted prayer and went to sleep that night.
In the middle of the night I woke up suddenly, and sat up in bed. I heard a voice in my head which said "Adrian, preach on the resurrection!" Life came into me immediately. I rang Tope, enthusiastically accepted the offer to preach, and began to study the resurrection furiously. I looked for a book on the resurrection. I basically couldn't find any apart from what I cheekily called the rather large "Big Green Book" by N.T. Wright. I found a quote from Spurgeon complaining that there were no books available in his day on this subject and bemoaning what he felt was a lack of emphasis. Quickly I knew this internal sense of call was not just a call to preach a single sermon that Easter Sunday, but a life message. I remember thinking months before this when someone had suggested I consider writing a book, "but for that I would need a life message, how do people get one of those?" Now I had one.
I sent an email to Justin Taylor at Crossway who was a fellow blogger, and asked him to be honest with me about my idea for a book on the implications of the resurrection. He liked it, and asked for a proposal, which I wrote and quickly got accepted.
Afterwards I learnt how difficult many people find it to get a publisher and felt both embarrassed, and convinced that clearly God was in this. The day I called Tope about this he whooped down the phone, if anything more thrilled than I was about it. To have a pastor who is so "for" you is a real joy.
When there were still just a tiny handful of people in the world who knew about all this, something even more remarkable happened. I was in a meeting, when a prophetic individual who did not know anything about me said something like, "I see a picture of you holding a pen in your hand. I see you writing, and your words going out all over the world to many people. I also see you writing books."
That is what we mean by prophecy. It was incredibly encouraging. I spoke to the guy afterwards and told him to his surprise I was a blogger, that on the blog at the time there was a picture of a hand writing with a pen, and that it was actually my hand, and about my contract. He knew none of this.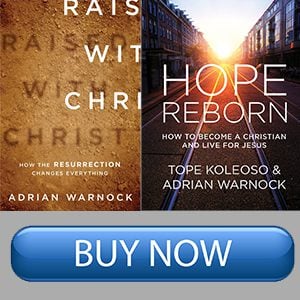 The end result was Raised With Christ – How the Resurrection Changes Everything. You can buy it from my USA and UK partners at a great discount. The process of writing it was both challenging and incredibly rewarding. I realized that the gospel I had preached all those years ago at Hyde Park Speakers Corner was seriously deficient. The resurrection of Jesus must never be assumed. In studying I found spiritual life and vitality. When editing got tough, and I felt like giving up, the prophetic word drove me on.
Writing it helped me personally, and I know that it has challenged and encouraged people who read it.
When I finished writing my first book, I really thought that would be it. That I would never write another book. But a few years later another book was coming, and the story of that book will be the last episode of this series in which I have attempted to write-up my story.
---
Read the Rest of Adrian's Life Story

A good introduction to Adrian's life story pre diagnosis can be found in a TV interview which aired on TBN and in a multi-part series entitled "This is My Story"