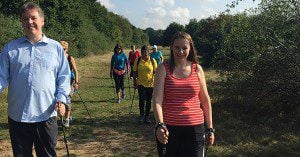 Despite being a doctor, I have not always been very good at taking good care of myself physically, psychologically, socially, and spiritually. So a few years ago I constructed a list of practical advice as much for myself as for my readers about how to strengthen what I call the four pillars of mental health and well being.
Today, I went back and expanded the list, which now includes links to articles on the web and some resources to help you improve your health. The resulting complete list is available here:
I believe one sensible approach is to select one item from each of the four pillars and focus on that initially. So in this post, I will identify the four items I am going to work on personally, you might want to join me in similar goals, or perhaps you would prefer to select others from the full list that appeal to you more.
I will update the comments section on this post to let you know how I am getting on at sticking to my commitments. You could also comment below about what you will do to improve your health too.
Biological
I have recently learnt Nordic Walking under the expert tutelage of Nikki Barnett. This walking workout is already improving my fitness levels. I commit to ensuring I do this at least twice a week for at least an hour each time. Will you join me?
Psychological
I have dabbled in using the Moodkit App. This enables you to set goals to improve your psychological health, journal in various structured ways, record your mood, and go through the 'thought checker' to challenge errorneous thinking patterns. I will commit to journalling in this app at least once a day. Will you join me?
Social
Face-to-face time with friends and family is critical and all too easy to neglect with our busy lifestyles. This does not include sitting chatting at home (a trip to a coffee shop or a walk together would, however), nor does it include a telephone call, or social networking activity! I will commit to spending quality time with at least one non-work friend or family member face-to-face per week for the next month. Will you join me?
Spiritual
There are many ways to improve our spiritual health. Perhaps none is more foundational than really engaging with the Bible. Sometimes it is hard work to mine a passage for a helpful truth or insight. As I begin to blog again following my recent rather long hiatus, I commit to studying the Bible sufficiently to produce at least one short insight per week that can be expressed in a few paragraphs. I will post the result here on the blog. Will you join me?