Are you sick? Take heart, the Bible contains many promises that God will heal you. Some of these verses that I will share below are so outrageous that they are almost embarrassing. Others, like the one in the verse we have been looking at together for a while now, are more subtle.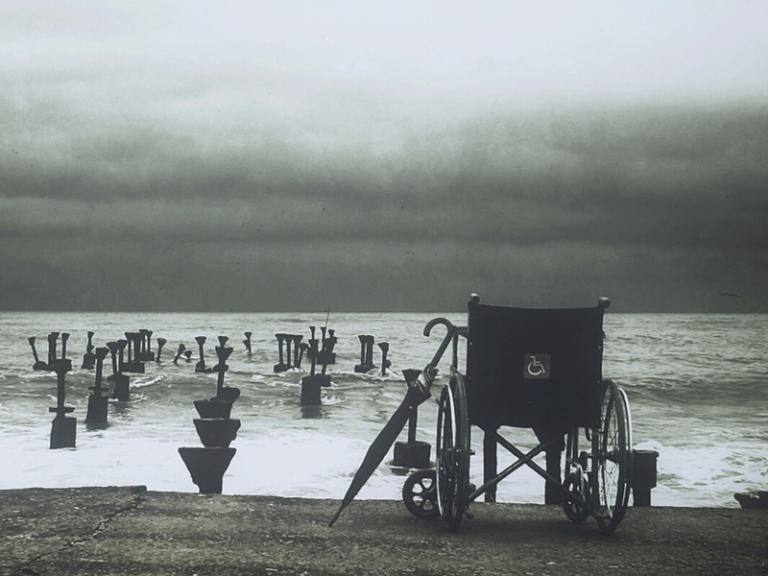 And after you have suffered a little while, the God of all grace, who has called you to his eternal glory in Christ, will himself restore, confirm, strengthen, and establish you (1 Peter 5:10).
Are you sick? Or are you in a prolonged recovery from a sickness? God promises to 'confirm' you. Interestingly, the Greek the word used here is σθενόω (sthenoo). It is only used here in the New Testament, but is the opposite of another word group used quite often, which includes 'astheneia' which mean sickness. This word that is still in use today as a form of sickness where someone feels weak. So the word we focus on today is the opposite of sickness. So when the modern versions translate it as 'confirm' they perhaps mean 'stop someone being infirm'
Have you ever really considered how sickness is actually the absence of something: health. God here promises that after you have suffered a little while, he will heal you. Being restored to wholeness is something every sick person longs for.
The Bible contains some hairy audacious promises of God's healing that are so expansive, they are almost too much:
Surely he has borne our griefs
and carried our sorrows;
yet we esteemed him stricken,
smitten by God, and afflicted.
But he was pierced for our transgressions;
he was crushed for our iniquities;
upon him was the chastisement that brought us peace,
and with his wounds we are healed. (Is 53:4–5).

Bless the LORD, O my soul,
and forget not all his benefits,
who forgives all your iniquity,
who heals all your diseases, (Ps 103:2–3).

Is anyone among you sick? Let him call for the elders of the church, and let them pray over him, anointing him with oil in the name of the Lord. 15 And the prayer of faith will save the one who is sick, and the Lord will raise him up. (Jas 5:14–15).

If you will diligently listen to the voice of the LORD your God, and do that which is right in his eyes, and give ear to his commandments and keep all his statutes, I will put none of the diseases on you that I put on the Egyptians, for I am the LORD, your healer." (Ex 15:26).

.
God includes these promises in his Word because he wants us to believe that he will heal us. Allow that to sink in, and for hope to rise.
Although I have already written about the 'Already AND not yet in my last post, I would be remiss, however, if I didn't acknowledge that healing doesn't always come immediately when we ask for it.
There is a balance between strong faith and a healthy reality check that's vital when it comes to this subject. In another post I will give some top tips on how to navigate healing. But for now I will give John Piper the last word:
"…if God gives you gifts of healing, it does not mean that you can heal at will or that everyone you pray for will be healed. Isn't it interesting that the literal phrase in verse 9 is not "gift of healing" but "gifts of healings"—two plurals? I think this probably means that different kinds of gifts for different kinds of healings are given to various people according to God's sovereign will. This alone would suggest that one person will not have a monopoly on every sort of healing that is necessary. And it suggests that there will be many times when a person with some gifts to heal will not be able to heal.

This was Paul's experience. God gave him the grace to heal the crippled man in Lystra (Acts 14:10) and many people in Ephesus (Acts 19:12) and the demonized girl in Philippi (Acts 16:18) and Eutychus when he was taken up dead after falling out of a window (Acts 20:9–10). But Paul could not heal himself from the thorn in the flesh (2 Corinthians 12:8–9) or from the ailment that he had when he preached in Galatia (Galatians 4:13–14). And evidently he could not heal Timothy from his stomach ailments (1 Timothy 5:23) or Epaphroditus from his life threatening sickness (Philippians 2:26–27) or Trophimus whom he "left ill at Miletus" (2 Timothy 4:20). Sometimes Paul was given gifts of healings and sometimes he wasn't. God is sovereign in this affair. Nothing is mechanical or automatic."

John Piper, preaching on March 4 1990
More Posts from Adrian on how to suffer as a Christian