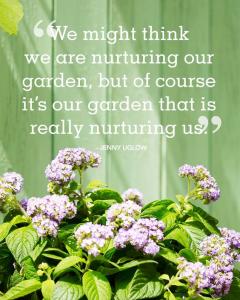 As a child I always hated to get my hands dirty, but that all changed when I got my first place. I cut out pictures of gardens, messy much like my hair, filled with colorful flowers, herbs, and veggies growing together as one melting pot of love. It's the perennials that have always been my favorites, though.
Perennials remind me that even through hard times (winter, hot sun, bugs, heavy rains, and drought) that they are strong and can keep coming back. Sunflowers remind me that even on the darkest days to stand tall and look for the sun. I've gardened in my pajamas. I've gardened under the moon, and in the early morning fog – listening to the song of the birds and the croak of the frogs. I've talked to the butterflies and dragonflies. I've cheered on the bees, ladybugs, and worms, and yelled at the turtles who eat my rhubarb and romaine. I listen to bray of my neighbor's donkeys, and I wave to my friends who ride their horses down the road. I watch the sand cranes fly over, and scold the turkeys for stepping on my strawberries.
Planting gardens and playing in the dirt holds a special place in my heart. It means that I have faith and believe  tomorrow will come. And while I nurture my gardens, they nurture me right back with joy (and sometimes frustration, but mostly joy). Gardening slows me down and reminds me to have patience. For me gardening is my best therapy, a meditation, and in the end I'm rewarded with flowers, yummy cucumbers, and tomatoes that I can for the wintertime.
This morning we officially welcome the full FLOWER moon. This militant moon in the astrological sign of Sagittarius will help you with your inner strength and offer you the ability to forgive and move forward in your own beautiful light. We all are gardening our soul and through that gardening we can find joy, some frustration, but a lot of perennial blooms.
I believe in you.
Believe,
Kristy Robinett
www.kristyrobinett.com